BioRefine opens new plant for production of grass protein
All photos: DGL
The innovative Danish producer of grass protein, BioRefine, chose NIRAS as project leader for its new production plant. NIRAS was responsible for design and project development in cooperation with BioRefine. The new plant is capable of transforming grass and alfalfa into protein for livestock fodder which could become a game changer for animal nutrition and animal production in Denmark.
September 30, 2021
SDG:

#9

,

#12

SECTORS:

Food & Beverage

COUNTRIES:

Denmark
BioRefine is Danish company that has devolved a method for extracting protein from grass and alfalfa. In short, this means that you can harvest grass from fields in Denmark and transform it into a protein that can be digested and absorbed by monogastric animals.
BioRefine was created by the three danish agricultural companies DLG, Danish Agro, and DLF based on an ambition of creating protein source for animal fodder that would be more benevolent towards the climate and the environment.
Grass protein can to a certain extent replace the imported soy protein that is normally being used for animal nutrition in Danish stables. This could contribute to making livestock production in Denmark far more sustainable. The protein is produced by centrifuging grass juice, extracting the protein from the juice, drying it and finally turning it into a powder.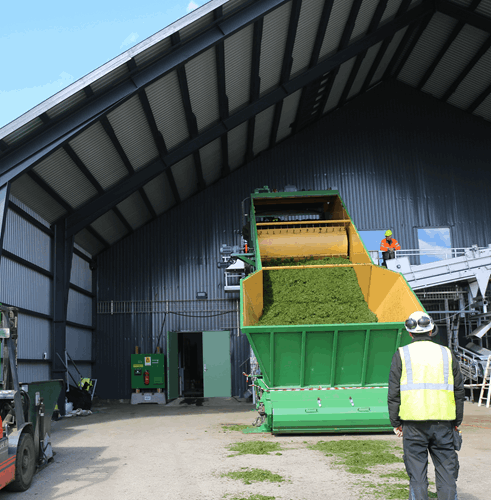 NIRAS played central role in ground-breaking project
NIRAS has played a central role in the ground-breaking grass protein project. In cooperation with BioRefine and Stecao, NIRAS has been in charge of the project management during the development and construction of the plant that is located in Nybro in Jutland. The BioRefine plant is in many ways the first of its kind, and due to its innovative features the company has filed a claim for a patent for certain elements of the process.
"Our experts carried out all the preliminary phases of the project as well as continuing with conceptual design and basic design. In addition, they were also in charge of implementing the project as well as the run-in and commissioning," explains Johannes Overgaard, who was NIRAS' project manager during the construction of the plant.
Local grass protein plant with a global potential
The plant will extract ecological protein from clover grass and alfalfa that will be produced locally on an area covering 3.000 hectares. According to BioRefine's expectations, the new plant will be able to have a yearly production of approximately 7.000 tons of ecological protein which will contain more than 50% raw protein.
"It is our first priority to cover the need for ecological protein fodder in Denmark. Furthermore, we are also focusing on developing green protein for use in food products for human consumption. It is our ambition to refine one fourth of the protein for human nutrition. The Danish agricultural business holds a tremendous potential for producing protein locally, both for animal fodder and regular food products. At the same time, the production of green protein is a solution that we can spread globally. The technology that we use at our plant in Varde can also be implemented in the rest of the world," says Vagn Hundebøll, who is CEO of BioRefinery and Senior Director at DLG Group Production.
Denmark has an annual import of approximately 50.000 tons of ecological soy, whereas there is an import of some 1.6-1.7 million tons of non-ecological soy each year. BioRefine has an ambition of gradually expanding its production with new bio refineries in other parts of Denmark in order to increase the amount of Danish protein fodder.
Sustainable protein and utilisation of waste products
"For NIRAS it has been an interesting challenge to find solutions to this type of innovative project which most likely marks the beginning of a long series of similar projects that will extract plant protein. In the long run, this could lead to a significant change regarding the agricultural sector's sustainability in relation to animal fodder," says Johannes Overgaard.
Yet another aspect of the sustainable production of BioRefine is related to the waste produce from the protein production. The so-called 'brown juice' which is left over from the production can be used for biogas and fertilizer.
In addition, BioRefine would like to use the plant fibers for a long series of things, ranging from animal fodder for ruminants to packaging, paper, cardboard and bio textiles. It is the hope that plant fibre packaging can replace plastic and thereby secure the company another sustainable source of income.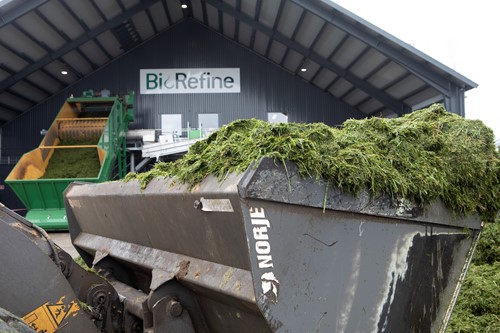 Fact about BioRefine
BioRefine was created by the three danish agricultural companies DLG, Danish Agro, and DLF with an ambition to create a climate and environmentally friendly protein source for livestock fodder.
BioRefine started in 2020 with acquisition of Nybro Tørreri, a company with 50 years of experience in working with grass. Thereby BioRefine has been able to continue the cooperation with local farmers who had an ample knowledge of cultivating grass and alfalfa. Furthermore, BioRefine wish to include more ecological farmers in the area as suppliers.