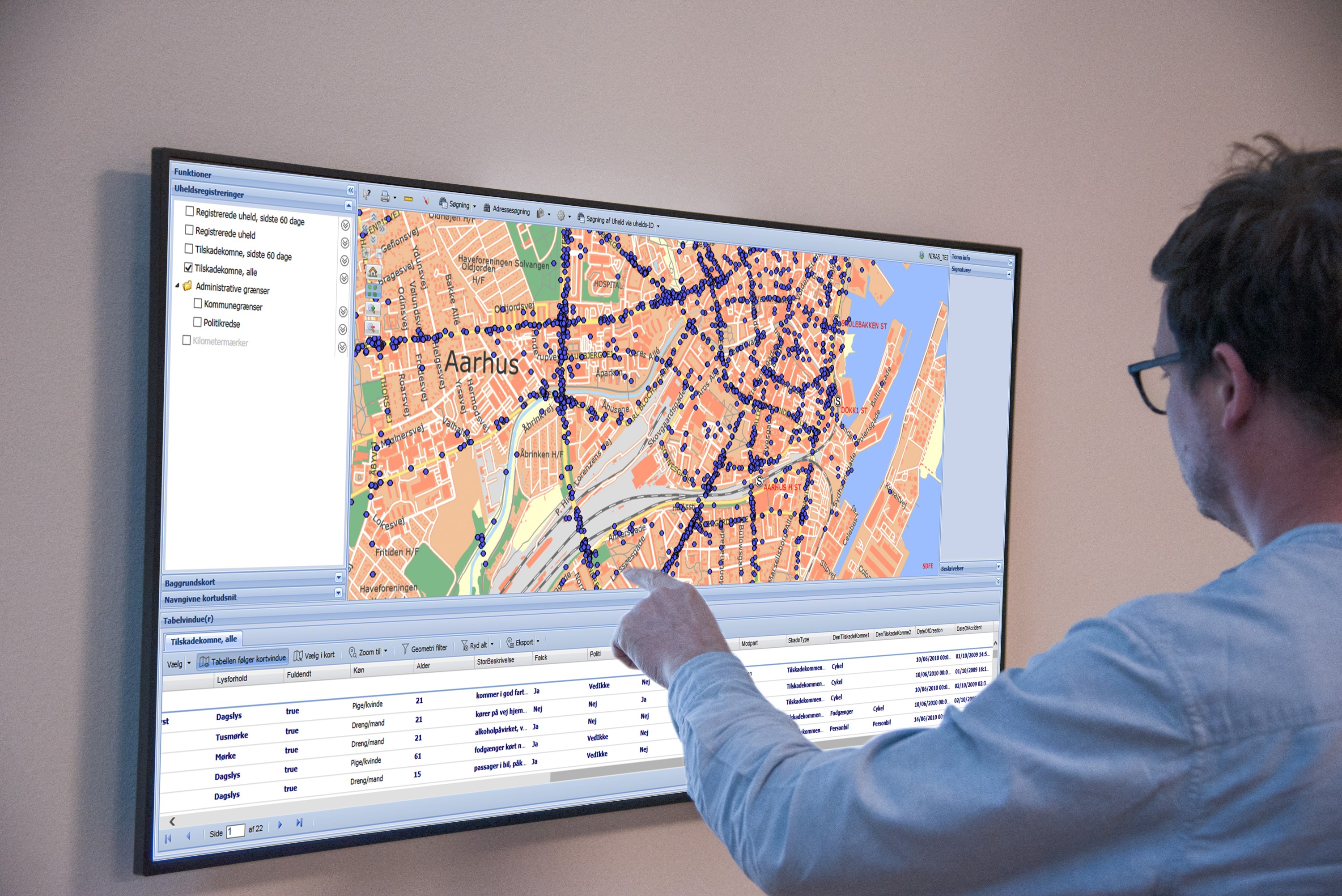 NIRAS's webGIS system KortInfo handles and illustrates geographical data. It provides an overview of both public and private companies.
KortInfo is a web-based map solution (webGIS) developed by NIRAS. KortInfo makes it easy to manage and maintain map-based data and to use it in various map solutions. The WebGIS platform provides solutions for many different tasks for both public and private companies - for example by presenting many different types of data on maps, by handling advanced analyses and by maintaining data that has a geographical relationship. 
KortInfo collects data from many different sources – both shared public geodata and private data. Regardless of your database, we help create clear maps for, among other things, websites, case processing in municipalities and utilities or as a process tool in projects.
Get competent advice and support
KortInfo's competent team of GIS consultants, project managers, technicians and software developers are always ready to help with KortInfo-related tasks as well as tasks within webGIS and GIS data. 
We know our clients very well! Through our expertise and experience we have good insight into the client's needs. This means we can usually quickly propose a GIS solution through knowledge of the options in KortInfo as well as publicly available data and standards. 
This gives you as a client the assurance that we can provide the right team regardless of the task, as well as provide value-creating advice and propose solutions based on deep professional expertise within webGIS and map solutions. 
In addition, we are part of a large consultancy, so we can always draw on advice from 2,400 colleagues with specialist knowledge in various fields such as utilities, environment, infrastructure, construction, industry and much more. 
Workshops and teaching
Our clients often request help to translate a professional problem – or workflow – into a KortInfo solution. 
An approach we often use is to hold professional workshops or deliver training, where there is 'hands-on' from the very beginning with the client's own data. In this way, a workshop or a teaching course becomes part of your concrete project solution - and not just a course you have to go through before you can tackle real challenges. 
Development of solutions that suit you
We also create customised KortInfo solutions that support special needs or address challenges that are specific to your organisation. Such a development of extra modules always takes place in close cooperation with you as a client. 
Of course, we can also help with setting up integrations for other discipline systems. 
By choosing KortInfo, you get full value for money. 
Support
KortInfo support desk is staffed by NIRAS's GIS consultants, who through daily contact with clients are well informed about your needs and challenges. 
You get quick help from our help desk via email or telephone. 
The support desk is staffed every weekday between 08:00 and 16:00 Friday 08:00 to 15:30