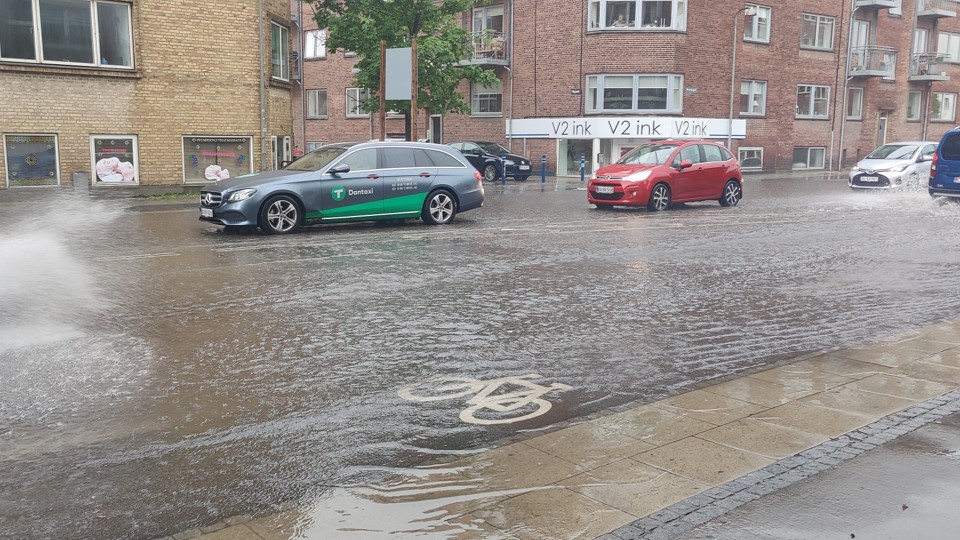 BEST Klimatilpasning (Climate Adaptation)
A webGIS-based decision support tool for socio-economic analyses and fixing of service levels for surface water.
BEST Klimatilpasning is a decision support tool for planners in municipalities and utilities, who work with climate adaptation in relation to the new legislation on waste water supply companies' financing of climate adaptation (the service level and cost order). 
The user-friendly system streamlines planning and makes otherwise advanced and time-consuming analyses simple and fast. The tool was developed in 2021 under the auspices of Region Midt's EU Life IP project "Coast to Coast Climate Challenge" in collaboration with municipalities and utilities in partnership. 
BEST Klimatilpasning is currently set up for 25 percent of the municipalities in Denmark and used when important decisions have to be made about the level of service for surface water and investments in storm surge protection. 
There are several good reasons to use BEST Klimatilpasning. The tool is part of NIRAS' robust webGIS system KortInfo and ensures easy browser access for your organisation to socio-economic cost-benefit analyses, provides a unique overview of data and enables simple and time-saving screening analyses of climate adaptation.  
BEST Klimatilpasning provides an overview
Especially in the initial project phases, BEST is an attractive alternative to a full implementation of the calculation-heavy socio-economic method specified in the service level order. This is because the tool can provide indications of optimal service and investment levels in a matter of seconds – and in this way provide an overview and be indicative of: 
Whether it is profitable to raise the service level

 

Whether it is best to invest in additional climate measures (the cost order)

 

Whether it is best to raise the service level in general for the catchment area (the service level order).

 
In this way, BEST provides important initial decision-making support and designates the right service levels/solution principles, which in later project phases are concretised and analysed 1:1 in relation to requirements in the executive orders. This ensures you get off to a good start and that the number of heavy calculations is reduced to only what is absolutely necessary! 
The tool is dynamic
When you buy BEST Klimatilpasning, NIRAS sets it up for the entire municipality or supply area. The tool then provides a screening overview of all water catchments with service levels for surface water and key socio-economic figures. This can include, for example, expected damage costs in the absence of cloudburst protection as well as the expected investment framework, derived damage reduction and profit realisation when insuring to the most appropriate level. This can be used as input to the wastewater plan and for prioritising water catchments and climate adaptation projects. The installation of BEST Klimatilpasning always takes place in close cooperation with the client, so that their wishes are implemented in the analysis. 
After the initial set-up, the user can easily adjust and upgrade various inputs – for example in a master plan with an overall cloudburst solution for a water catchment. For example, the damage value and calculation principle can be adjusted at building level, on the basis of local knowledge, and additional costs can be specified by either type number at catchment level or by implementing specific climate measures in the tool and using a built-in additional costs catalogue. The tool is made user-friendly. Any change in the input is followed by an automatic recalculation, so that the output is always in balance with the input. 
No more dead analysis
In BEST, it is possible to save the setup and results from a specific analysis, which enables the development phase of a project to be documented from assessment of cloudburst plan to final master plan. This ensures that the development and decision-making process for an overall cloudburst project is always well documented and easy to access for both the municipality and the utility.
Jan Jeppesen
Specialist
Aarhus, Denmark
Sara Bugge Ploug
Expertise Director
Aalborg, Denmark