Safeguarding our experts: A smooth evacuation in a fragile security situation
River crossing on the way back to N'Djamena
When word spread about the death of Chad's president back in April, two NIRAS experts found themselves in the field - and resolute measures were taken to bring them back home safely.
May 27, 2021
Despite its location in the dry Sahel belt, Chad is a country with an immense biodiversity. It has three vegetation zones, namely a wet and dry tropical zone in the south, a semiarid tropical zone, and a hot arid zone with scarce vegetation. However, ecosystem degradation is prevalent due to environmental factors and human activity.
To reduce the human pressure on ecosystems and improve livelihoods for local populations, the EU –  together with the French Development Agency and the Republic of Chad – are financing the Structuring Support Programme for Pastoral Development (PASTOR) programme in order to promote a concerted and sustainable use of pastoral resources in Chad. The programme's approach rests on taking the needs of local populations into account, strengthening their resilience to climate change in pastoral and agro-pastoral areas, generating jobs (particularly for young people), and thus contributing to a reduction in poverty. NIRAS is conducting a technical audit of the programme, which runs for six and a half years and aims to verify the programme's progress.
"NIRAS is professional, always concerned with people and possesses a very interesting portfolio in terms of projects and programmes. Stakeholders and partners in the field speak highly of NIRAS; it is a company with a good reputation both at local and national levels."

Patrick Reymond, Key Expert on the programme
An abrupt end to the mission
The regular technical audit was initially planned to consist of eight missions but was then reduced to six due to COVID restrictions and subsequent changes of plans. In April, NIRAS' expert team was conducting the second mission, when Team Leader, Pierre Kenmeni Munoz, and Key Expert, Patrick Reymond, learned that Chad's president had been killed on the front in the Kanem province during an offensive by rebel troops. The event obviously impacted an already sensitive security situation in the country.
Patrick, who has extensive experience working in fragile contexts, says: "I have experienced evacuations before in my work with emergency NGOs. This evacuation was very smooth. Both my partner and I have extensive knowledge of Chad, so we knew that it was no good to continue in the field."
Their concerns proved to be right. Two days after they heard of the president's death, all embassies asked their nationals to reach the capital and non-essential people to leave the country as soon as possible.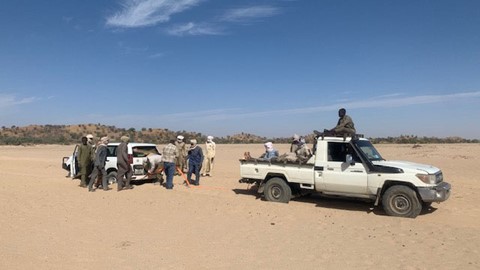 During the evacuation back to N'Djamena, the team's car were silted up but quickly received sand removal assistance.
Although the mission took place approximately 1000 km from the capital N'Djamena, the two found themselves back home in Cameroon and France, respectively, in a matter of three days with the help of the project manager, Ivana Andric.
"On April 20, 2021, with the announcement of the president's death, Ivana reached out to the European Union Delegation in N'Djamena to verify the information and coordinate on what do to with the experts on the ground. All agreed that we should return to N'Djamena as soon as possible and look for ways to return to our respective countries because the situation was unpredictable," says Pierre who has worked with NIRAS earlier. Ivana contacted the Cameroonian and French embassies in Ndjamena, a security agency that NIRAS worked with and even Pierre's insurance company to obtain information about the possibilities for him to come home. "The following day – on April 21 - we left for N'Djamena. NIRAS took care of our living expenses once we arrived there and booked my flight back to Cameroon for April 23. Looking back, I think that NIRAS handled the situation very well." Pierre notes.
Effective support measures, reliability and trust in experts
Patrick, who has completed seven missions with NIRAS, shares the feeling of thorough support from NIRAS: "There is always regular contact and briefing from NIRAS' side which means that each colleague are at the top level regarding communication and security. You feel that NIRAS is always ready to intervene in case of an emergency." He emphasises the importance of good and regular contact as well as a strong relationship with the project manager when working in complex contexts – something he has experienced throughout his work for NIRAS where project managers have always been fully available for experts in the field.
"Another factor that is very motivational is that I always have interesting and diverse tasks when I work with NIRAS – and they show trust. For instance, on my first mission I was appointed head of mission," he adds.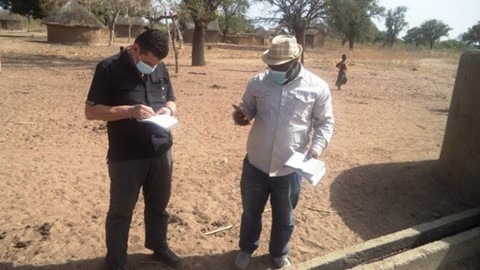 Pierre and Patrick inspecting a drilling
Patrick and Pierre are ready to continue the missions in Chad once circumstances allow for it in order to contribute to a concerted and sustainable use of the country's pastoral resources which in the end improves conditions for its local populations and its ecosystems.