Collective serendipity: Access to clean drinking water and a new customer base
A Danish clean tech export fund enables firms like SUEZ to tap into new markets by delivering sustainable development solutions across the globe
June 27, 2022
The Bangladeshi village of Paschim Khada is one of the world's most vulnerable places when it comes to access to drinking water. Located in a low-lying topographical area prone to saltwater intrusions and with no drinking water treatment infrastructure in place, the village experiences critical water shortages during the dry season ‒ a crisis that has been compounded by climate change's pounding of Bangladesh.
This makes the village the perfect place for the Danish firm SUEZ, a market leader in water solutions, to export its innovative water treatment plant unit. Typically, used for surface water sources that require clarification and disinfection, the compact technology can be easily transported to remote, rural locations with no water utility services. It was developed over a decade ago and has been used in Africa and Asia but never Bangladesh before now.
Partnering with another Danish firm ‒ Vand & Teknik ‒ SUEZ received funding for part of the costs of the civil works and the water treatment unit from Denmark's Export Credit Agency (EKF) under its Green Accelerator programme enabling the firms to bring the technology to Paschim Khada.
on the list of countries most vunerable to climate devastation
Bangladeshis (56% of the population) live in "high climate exposure areas"
Tapping into the clean tech export market
As part of efforts to stimulate exports of Danish products and services following COVID's damper on the economy, EKF established the Green Accelerator to provide financial support to Danish clean tech export ventures. The close to €12-million (DKK 85 million) fund provides seed funding for upscaling innovations and solutions that, for example, reduce fossil fuel dependency and greenhouse gas emissions, boost energy efficiency and efficient resource utilisation, or remedy food or water shortages. Subsidies are offered to individual companies or partnerships of at least two Danish enterprises working together on an export offering.
NIRAS supported EKF in implementing the scheme and manages the funds, including technical and financial assessments of the applications submitted to EKF's Grants Committee who evaluate applications. To date, there have been 18 grants totalling just over €2.5 million.
SUEZ and Vand & Teknik are one example of the EKF-funded export alliances targeting the sustainable development agenda. SUEZ has been operating in Bangladesh already for several years working mostly on large capacity drinking water plants. This solution is a prefabricated, solar-powered and compact unit with a production capacity of 15 m3/hour. It can easily be deployed even in the most remote locations and can deliver safe quality drinking water to several thousand inhabitants in its vicinity, improving their health and living standards and general quality of life.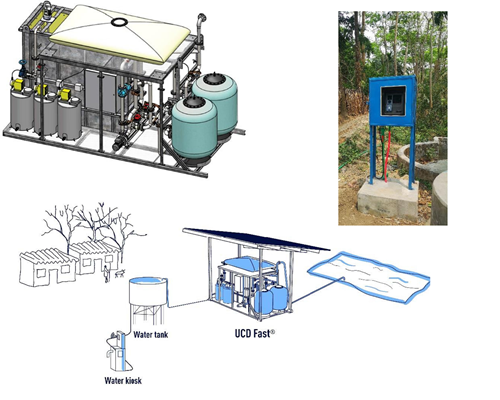 A schematic of the compact drinking water plant with a photo of the Grundfos distribution kiosk, AQtap
The unit is complemented by other elements, such as storage tanks and sludge-drying beds, to establish a complete solar-powered drinking water plant. Water is pumped from a rainwater harvesting pond located next to the project site, treated and sold via two distribution points near the unit. About 250 meters away, treated water will be available from an automated Grundfos distribution kiosk called AQtap. Portable measuring probes are available on site and are used to analyse parameters on raw water, clarified water and treated water every day for safety purposes.
The plant is running in demonstration phase until the end of September 2022, during which times a SUEZ employee will train the local water entrepreneur. At the end of the demonstration, an analysis of the plant's performance, water quality and financial income will be carried out to create a financial proposal for the local water entrepreneur that will include the first year of acquisition as a monthly annuity to ensure the seriousness and willingness of the buyer. During these first months, a SUEZ employee will make monthly control visits to ensure that the facility is maintained in good condition. After a few months, a final agreement will be reached to allow the entrepreneur to fully acquire the plant. SUEZ's offices in Dhaka will support in case of major technical problems or spare parts ordering.