NIRAS at drinktec 2022 from September 12-16 in Munich
We look forward to presenting our complete Engineering & Consultancy services within the beer and beverage industry at drinktec 2022 from September 12-16 in Munich.
Address: Stand 226 - Hall C3 - Pavilion of Denmark - Trade Fair Messe Munich - Am Messeturm, 81829 München - Germany
Date: September 12, 08:00 AM - September 16, 08:00 PM
Organizer: drinktec
Event type: Beer & Beverage Expo
After two years of lockdown and online meetings, we are looking forward to meeting new potential clients whilst also welcoming  existing clients and partners. As always, drinktec will represent an opportunity to gain and share insights into the newest developments in the beer and beverage industry.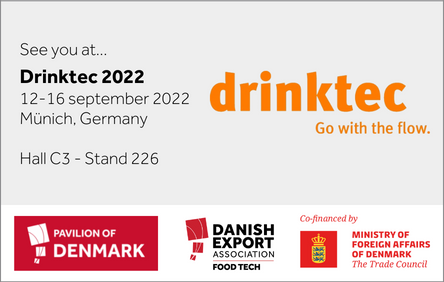 Our location at the Exhibition  
Meet us on Stand 226 - Hall C3 - Pavillion of Denmark.
Hear about the latest industry trends and the solutions we offer to optimise your beer and beverage business. Read more about drinktec here.
Sustainable solutions within Food & Beverage
Based on our experts' deep knowledge of your products and processes, we transform your visions and challenges into sustainable solutions – from the very first idea or indeed concept, to  the design and implementation of a fully operational plant.
Focusing on best practice, innovation and sustainable solutions, we can assist you when it comes to improving performance and securing operational reliability.  We can offer an holistic approach to your requirements.
We work for top tier clients all over the world  and focus on helping to drive change in the value chain and optimise our customer's competitive market position. The cross-disciplinary approach to our solutions integrates function, design and economy with long-term development.
Process expertise in the food and beverage industry
As beer and beverage process specialists, we provide expert consultancy across all areas of your investment process, project execution and strategic production optimisation. Our services cover the full range of decision support, project  and operations' services.
World-leading execution
With more than 40 years of successful project implementation, we are dedicated to meeting the demands of our clients. Our cross-disciplinary design integrates functionality and efficiency with long-term expansion and production flexibility. This approach secures you the most modern, future-proof manufacturing facility.
Specialist services
Across the food and beverage industries, NIRAS provides a complete range of services. In addition to defining, designing and delivering new facilities and equipment, we advise on production optimisation, environmental issues, management decision support, and logistics.
Stay on top of Food & Beverage business trends and news
Follow NIRAS Food & Beverage on LinkedIn
NIRAS Food & Beverage Newsletter
Sign up to learn how our clients optimise production and drive sustainable progress.
Follow Integrated Food Projects on LinkedIn
Jonas B. Borrit
Vice President
Allerød, Denmark
Nick Hickman
Head of Operations
Ascot, United Kingdom
Olav Vind Larsen
Vice President, Business Unit
Allerød, Denmark