Eva Paola Kvist Campos: From large scale urban planning in Mexico to sustainable mobility in Denmark
Eva Paola Kvist Campos is a 33-year old Mexican who is currently conducting an Industrial Ph.D. in NIRAS on sustainable mobility. Here, she explains how her background as an architect and in city planning led her to Scandinavia and what the main differences are between working in Mexico and in Denmark.
Eva Paola Kvist Campos is originally from Monterrey, a major industrial city in the north of Mexico, but since she has lived and studied in five different countries, her academic and professional career has been predominantly international.
"Both my early professional work in Mexico and the experience of living in the three Scandinavian countries have shaped my personal interest in sustainable living, and my career interests in city planning and sustainable transitions," Eva explains.
In Mexico she worked as a city planner for a private company in her home state Nuevo Leon.
"My task was to shape the sustainability strategy for a new urban development area that was going to host more than 150.000 inhabitants. It was extremely fascinating, but also very complex to plan a development in this scale and to deal with many different stakeholders, especially since the project was going to have a deep impact on many people's daily lives," she says.
A unique experience
The experience left her with a deep curiosity about discovering the best practices for innovation within city planning. Eventually, this curiosity led her to Scandinavia in order to be part of the huge ecosystem of innovation and sustainability.
There is a great atmosphere for collaboration among offices and departments across NIRAS' offices throughout the country.

Eva Paola Kvist Campos
"I came back to Scandinavia in 2018 with the aim to learn and work shaping sustainable cities in the Scandinavian context, but also be able to use my knowledge to inspire other geographies."
According to Eva, working as a Ph.D. student in NIRAS offers her a unique chance to do research and development within a business unit that develops and offers new services with a focus on sustainability.
"While I do the Ph.D., I am getting involved in my department's work and their projects for different clients. I get first hands-on experience with developing sustainable mobility solutions. But working in this context also gives me a great opportunity to receive feedback, exchanging knowledge, and coming up with great innovation opportunities. These initiatives can create a lot of value for clients such as municipalities, but also for citizens that use transport infrastructure and mobility solutions," she says.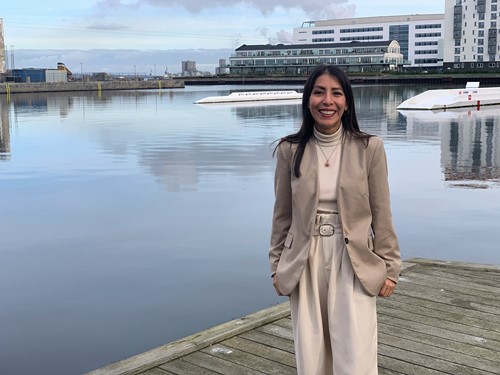 Work and culture in Denmark vs Mexico
During the years, Eva has noticed several differences between Danish and the Mexican work culture.
"It has been quite exciting to join the team. I am super grateful the openness that my team and office have shown to welcome someone from overseas! There are many new things both for me and my colleagues. I also think, I have never eaten as much cake in my life until I started working in Denmark! We eat cake every week and it is just lovely. It is a good way of not missing the tacos on Friday mornings in Mexico," she says.
It is nice to see how many we are and that NIRAS is investing in high-end internal R&D and talent.

Eva Paola Kvist Campos
She also notices a difference between the Scandinavian countries and Mexico when it comes to life outside the workplace.
"I really enjoy the work-life balance in Denmark. Work days are shorter here, and that gives plenty of room to do other activities than working. In Mexico, it was quite common to have long lunch breaks up to 2 hours, and as a result, you can finish your work day around 19:00 at night. Additionally, people spend a lot more time commuting since there are long distances and traffic jams, especially in the big metropolitan areas such as Monterrey, Guadalajara, and Mexico City."
Gender equality is also an area where Eva has noticed differences between the two countries:
"I really appreciate that there is a greater representation of women in the industry in Denmark and hence more gender equality. In my home country, the leading roles in many companies are still dominated by men, particularly in the land development and construction industry. I was personally the only female at a decision-making table full of men. I really hope that has started to change now."
Differences in the organizational perspective
When Eva compares her work experiences in Mexico and Scandinavia, it is evident that there are many differences, not least in the scale of things.
"The sheer scale of the projects is definitely a big difference between Denmark and Mexico. Monterrey´s metropolitan area has over 5 million inhabitants and it is quite common to develop new urban areas that are bigger than 500 ha. which is twice the size of the full Nordhavn development in Copenhagen that is being built during a span of 40 years. That gives a much higher organizational complexity because it is necessary to cooperate with many real estate developers, governmental and non-governmental agencies, and infrastructure providers, and make them agree on a project of this magnitude."
She also emphasizes that the cities in Mexico and Denmark have different layouts which give different challenges when it comes to sustainable mobility. In Mexico, many cities are planned for cars and as a result most of the people travel by car.
That can make it quite challenging to convince the stakeholders why it is necessary to implement walking and cycling paths in the new development areas, whereas these solutions are considered completely natural and common in Denmark.
Great atmosphere in NIRAS
Eva emphasizes that some of the most interesting parts of her Industrial Ph.D. are a result of the dynamic nature of the work:
"During a normal month and alongside my daily research and development tasks, I also participate in conferences and have meetings with experts in the field or that represent different stakeholder groups. Finally, I also participate in educational learning at the doctorate school, so my work is really diverse."
But at the end of the day, doing a Ph.D. also implies a high degree of solitary work and an ability to stay focused:
"One of the challenges is that an industrial Ph.D. project lasts three years and the work is highly individual. This demands high engagement and motivation in relation to topic, but also great self-discipline and project and stakeholder management skills." 
She stresses that it has been valuable to be surrounded by talented people and industry experts that are always willing to collaborate.
"There is a great atmosphere for collaboration among offices and departments across NIRAS' offices throughout the country. In my project, for example, I engage with experts from other regions and fields that work with digital services such as geographic information systems (GIS) and experts in transit-oriented development (TOD), among others," she says.
Furthermore, Eva also forms also part of a recently formed network of Industrial Ph.D. fellows in the company:
"It is nice to see how many we are and that NIRAS is investing in high-end internal R&D and talent. The network is a great initiative where we can exchange experiences and advice on this unique journey."