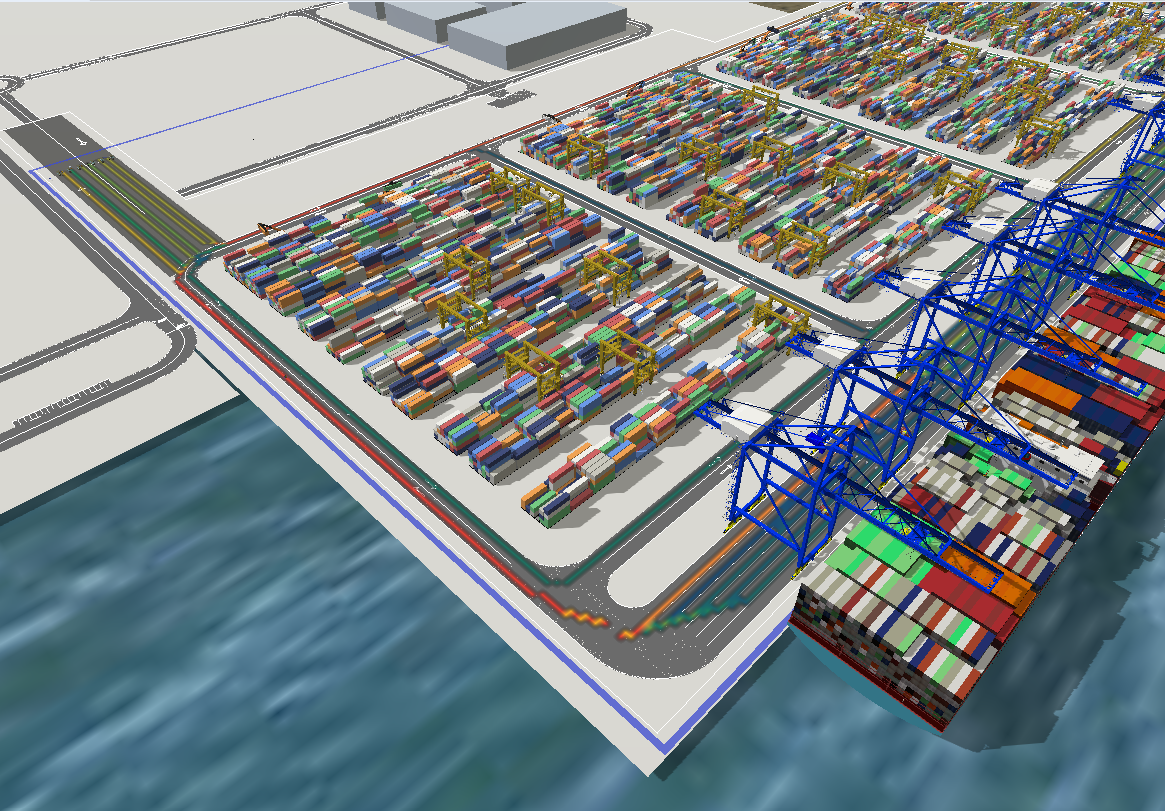 NIRAS utilises highly specialised simulation software to build precise and predictive models of ports ensuring that our clients can make informed decisions. Our simulation models can review, identify and remove bottlenecks in existing operations. They can also review future development alternatives to give our clients the best solutions for their facilities.
When a port is looking to expand or upgrade its facility, the decisions made during the design phase are critical to the future operations. Correcting errors at a later stage can be costly and disruptive, therefore the ability to foresee and solve any potential problems at design stage is very advantageous.
Highly specialised simulation software
Our highly specialised simulation software builds precise and predictive models of ports to allow our clients to make informed decisions. Our simulation models can also identify and help remove bottlenecks in operations, giving our clients confidence that the best solution for their facility is developed.
One of the benefits of a simulation model is that it is not a one-off. Once the model has been built, verified and used to optimise the port's operations, the same model can be used again during the ramp-up/commissioning phase and also during future operational reviews.
During the commissioning phase, the simulation model can be loaded with the current performance, cargo and the expected ramp-up curves of the port's operations.
Simulation tools create realistic expectations
Our simulation tools facilitate creation of realistic performance expectations, planning workforce requirements and anticipating throughput capacities, thus enabling mitigating actions before problems occur.
During regular operations, the model can be integrated with terminal operating systems and IoT devices to create a live, real time digital twin. In this instance, the single model can be used to predict the impact from equipment maintenance, purchase of new equipment, and changes to cargo schedules, for example.
Global expertise in simulation models
In addition to ports, we have prepared simulation models globally for a wide range of clients and uses. This includes manufacturing, automated underground parking facilities, sterile hospital equipment process plants, automated hospital logistics, clinical hospital processes, mixed road construction traffic, and people flow in buildings with elevators.
We bring our global expertise across all these sectors to the ports industry to provide a best in class service, tailored to our client's needs.
Andrew Walker
Associate
Edinburgh, United Kingdom
Adam Sharp
Associate
Ascot, United Kingdom