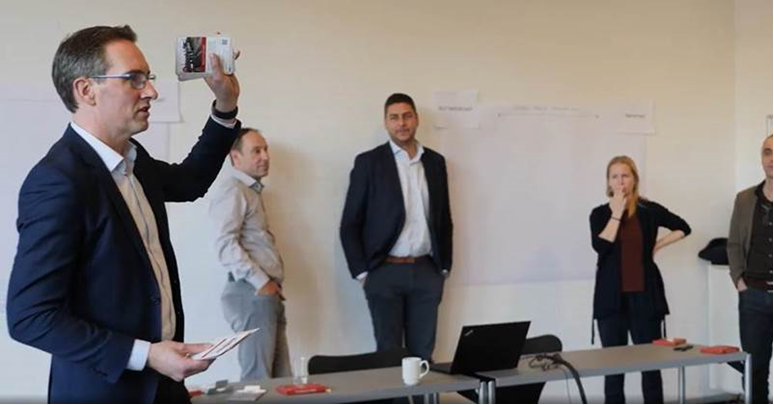 Digital advice and business development
Get new inspiration and insight into how you utilise digital opportunities in your business.
Do you have ambitions for a data-driven business? Do you need an advisor to realise the full potential of your data? 
NIRAS's digitisation consultants are experienced in conducting workshops where we map out your digital options from both a business and technical perspective. In the range of workshops, we offer different approaches to gamification in working with technology, business models and sales. 
Tech Session
Would you like help exploring how digital technology will affect your business in the future? A Tech Session is a well-tested workshop concept where participants are challenged to discuss and prioritise the most important digital technologies of the future. In a Tech Sessions workshop you get: 
Overview of new digital technologies

 

A framework for discussing how digital technology will affect your business in the future

 

Inspiration for how you can benefit from digitisation

 
The participants in a Tech Session play a card game called Technology Cards, which former business Ph.D. Sidsel Ernstsen has developed in collaboration with the Technical University of Denmark. More than 250 employees and managers from 40 organisations have already tried a Tech Session, and the feedback is very positive. The card game Technology Cards makes it fun and easy to engage in strategic dialogues about the potential and consequences of digitisation - even for participants who do not have in-depth knowledge of technology beforehand.
Digital business models
In the workshop 'Your Digital Business model', the participants work with business models and, through gamification techniques, shed new light on the possibilities for commercialising their own services and products. The concept has been put together as part of NIRAS's own digitisation process and has been thoroughly tested in our organisation. 
3-Step-To-Sale
On digital sales, in the '3-Steps-To-Sales' workshop, we focus on your client journey and communication. Through a carefully planned process, we guide you through the steps in the development of a complete marketing plan with targeted use of sales channels such as social media and the use of personas for your target groups. The concept has been developed and successfully applied internally at NIRAS, and now we also offer it to our clients. 
We also carry out tailor-made courses where we combine technology with the strategic business development of your company. 
Christian Holmegaard Mossing
Vice President: Data, Analytics & Planning
Allerød, Denmark
Sidsel Katrine Ernstsen
Consultant
Allerød, Denmark