Rethinking resources in an effort to keep farm production going in Ukraine
Small holder farmer in Carpathian Mountain region
An agriculture project meant to support small producers in Ukraine has morphed into a logistics and donor coordination machine working to ensure food security during wartime.
May 26, 2022
SDG:

#1

,

#2

,

#8

SECTORS:

Development Consulting

COUNTRIES:

Ukraine

DONOR:

European Union
When war came to Ukraine, it would be fair to assume that a four-year, 7-million-euro European Union (EU) project aimed at improving the livelihoods of smallholder farmers by increasing the competitiveness and growth of the agriculture sector would be put on hold if not cancelled. Many of the project stakeholders, such as government officials and the farmers themselves, had stopped working or even fled their homes.
But thanks to proactive management and a lot of flexibility from the EU Delegation in Ukraine, the EU4SmallFarms project was able to pivot from traditional technical assistance to providing much needed coordination of donor agricultural and food security support as well as the related logistics.
"Because its staff are scattered and the Government currently has significant responsibility in securing food supplies, we have people embedded in the Ministry who are directly advising the Minister and Deputy Ministers," explains Team Leader John Millns, a rural development specialist with more than 25 years' experience in Central and Eastern Europe.
"At the same time, the EU and other donors need to know what Ukraine needs. So we are facilitating communications between the Government of Ukraine and the EU for developing and implementing agricultural food security policy … Access to food is one of the most important things. We are particularly trying to help smaller farmers to have access to inputs they are going to need for planting and harvest."
"[Farming] is their life and they don't want to sit and wait until the war is over. They want to work. Back home, they were members of cooperatives. They understand how business works. How to start, they can do it here [in Western Ukraine]. It's not a problem for them. The problem is resources and support."

Valerii Bondarcuk, Field/Farmer Coordination Western Ukraine, EU4SmallFarms
internally displaced persons (IDPs) in Ukraine (May)
IDPs officially registered in Lviv Oblast (May)
IDPs officially registered in Ivano-Frankivs'k Oblast (May)
Readjusting priorities to a war situation
Launched in July 2021, the NIRAS-managed EU4SmallFarms – or the Institutional Policy Reform for Smallholder Agriculture (IPRSA) project as it is more officially known – aimed to support the Ministry of Agrarian Policy and Food with agricultural and rural (as well as forestry and fisheries) policy, legislation and reforms as part of the country's ambition to become an EU member. Ukraine has some of the best soils and biggest agricultural potential in Europe and leads the world in extensive production and trade in cereals and oil crops – a fact that is currently a critical issue as a result of Russia's invasion. Despite this, the country suffers from significant rural poverty and a lack of investment in added-value production and small-scale rural enterprise and farms. In search of employment, young people in particular are moving away from rural areas, where populations are in decline.
By supporting good agricultural practices with extension services, reforming the agriculture, forestry and fisheries sectors and increasing central government and local authorities' capacity through 53 planned activities, EU4Small Farms aimed to increase rural incomes and slow migration by making the sectors more competitive.
Then came the 24th of February, and the focus shifted.
"The EU asked us to reorganise our activities around the priority areas under a war situation. It came down to two: support the Ministry with agri-policies and assist small producers, mainly in western Ukraine, with access to grants, advice, information and training," John explains. "It sounds like a smaller project, but it actually turned into a bigger one. We have 30 national experts mostly embedded in the Ministry, but those in the field are working with the farmers to understand what they need and how the Ministry can help as the war continues."
Small holder cheese production in Western Ukraine
Valerii Bondarcuk and Taras Antonyuk are two Ukrainian team members coordinating with farmers in the mountainous region of western Ukraine. Part of their role is to assess the impact of the war there.
"The huge influx of internally displaced persons has had a big impact on local food security, and the war has broken the traditional supply chains of food," Taras says. "Deficit of labour is an issue in every industry because of conscription, and small holder farmers and farm employees are also effected as many are not officially registered on the system that would enable them to continue farming rather than joining the army. For those who are farming, the lack of working capital is problematic. People are trying to volunteer as much as possible and support the army and displaced persons so they are running out of working capital for production ... deficit of fuel has also been a huge problem, fuels prices have almost doubled as now we are importing from EU."
Ukrainians (19%) have land shares covering 30 million hectares or 73% of all farm land in Ukraine
Small farmers are producing and selling on the market but not registered
What the farmers mostly need is seeds, fertilisers, veterinary products, food for fuel, equipment and machinery; and it is coming from a variety of sources.
The team works with the EU and its Member States and all the international aid donors – USAID, Canadians, Australians and so on – who are giving support. Like Copa Cogeca, which represents 22 million farmers and agri-cooperatives in the EU. Members are providing tractors and other agricultural equipment. The Ministry compiles a list of what is needed. The team disseminates this to donors and records the requests and what has been supplied. The goods are delivered to Przemyśl in the southeast of Poland, where there's a big warehouse facility. From there, its distributed all over Ukraine. The EU recently said it will give another €500 million for this so coordination has expanded to the OECD, ECHO (the EU humanitarian aid agency) and other institutions. EU4SmallFarms has two full-time lawyers adjusting Ukraine's laws for humanitarian assistance in the area of agriculture as food cannot just be imported into the country. The team also supported the Ministry in preparing the agriculture and fisheries chapter of Ukraine's application for EU membership. And, despite the war, are still helping the government align their laws for EU membership.
The Food and Agriculture Organisation of the United Nations (FAO) defines a family farm as one that is "managed and operated by a household and where farm labour is largely supplied by that household". These farms not only make a significant financial contribution to the economy and food security worldwide but also help to ensure sustainable rural communities and protect the environment. Small family farms and households in Ukraine contribute significantly to agricultural production, but most lack collateral, equipment, access to private or public investment finance, agri-insurance or are unable to access formal markets or add value to basic production. Small-holders have little access to information, advice or training and few organise themselves in any commercial way as producer organisations.
The right aid, at the right time, to the right farmers
In addition to coordinating the requests from farmers on supplies, the team are supporting the implementation of three types of grants delivered through the Food and Agriculture Organisation of the United Nations and financed by the EU. This includes a direct cash transfer to vulnerable communities - €74 a month for three months for very small farmers. A €5-million production support grant for bigger farmers to buy seeds and fertiliser, for example, and then another €5-million grant for small pieces of equipment. Further EU support is expected in the coming months.
Taras explains that distribution has not started yet as the FAO developed the concept before the war. It needs to be reshaped based on data he and Valerii together with the FAO team are collecting to better define the amount of the grants, what value chains will be supported, the category of farmers to be targeted and so on.
In close cooperation with local authorities, farmers associations, agricultural advisory services, the team is also is in the process of preparing to conduct demos and trainings for farmers, householders, internally displaced persons on different topics of agricultural activities. Valerii and Taras have been working with farmers' associations and whatever means necessary to reach the farmers.
"Through our cooperation with the Ukrainian Network of Demo Farms, we are preparing a series of online and where possible offline demos on different types of production," Valerii says. "We've also want to renew our original task to start cooperation with and support of agricultural advisors on agricultural knowledge and innovation system (known as AKIS). We will try to establish this at the local level, with small groups of farmers, agricultural advisers, local authorities and other relevant specialists starting in the West. It was quite complicated during first months of the war, but now people are more open, they believe everything will be fine."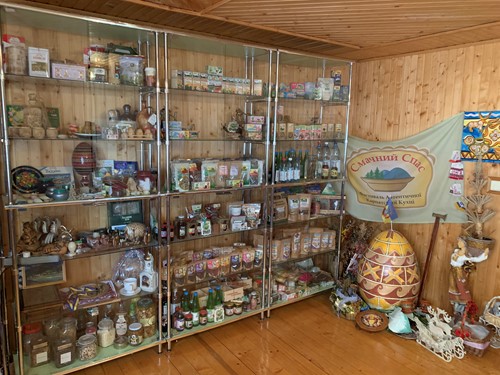 As Ukraine takes back more and more territory, some people are returning home. This means that those who stay in the West are the most vulnerable. As Taras explains, they have no home to return to, no resources so they are dependent on state support or humanitarian aid. "It's a reality they are becoming part of local communities in western Ukraine. Some are asking for plots of land and want to be part of local supply chains.  The team is trying to identify micro-support projects to help these people."
Valerii adds that is very complicated to find land and the money to reconstruct and launch businesses from scratch, but farmers are doing it nonetheless.
"It's their life and they don't want to sit and wait until the war is over," he says. "They want to work. Back home, they were members of cooperatives. They understand how business works. How to start, they can do it here. It's not a problem for them. The problem is resources and support."
One of the challenges the team is facing is knowing exactly who needs the help. There have been efforts to register all the Ukrainians who are producing and selling on the market. The Government has established the Unified State Register of Legal Entities, Individual Entrepreneurs and Public Associations, but as of October 2021, it was mainly comprised of bigger farms: around 48 600 farms and 1269 agricultural cooperatives. But up to 90% of fruit and vegetables are not produced by those farmers. It is produced by small-holders on less than ten hectares. That's potentially 1.5 million even up to 4 million people who are producing and selling on the market but not registered. The EU4SmallFarms team has been working with the World Bank, which has developed some software so all farmers can register and get the support they need during the war.
About 85% of vegetables are grown in "рщгіурщдві" (small garden), only 15% is for industrial production. Ukrainians in "safe" regions have become more active in vegetable gardens, and charitable initiatives - such as the Borsch or Victory Gardens - are distributing seeds for free so that there is no shortage of vegetables.
Even if there is no food crisis in Ukrainian-controlled areas, declining exports could affect the economy as a whole. Ukraine's GDP consists of five parts of the agricultural complex. Exports of agri-food products account for more than 40% of the country's total exports. If it is not there, there will be no foreign exchange earnings. Many manufacturers can go bankrupt.
Implications beyond Ukraine's borders
Due to the war, the reach of EU4SmallFarms is restricted to limited areas. The South, North and East are essentially no-go zones. As occupied territory, no planting can happen in the South, an important area for fresh fruits and vegetables. Likewise in the North and East, planting is not happening because farmers are (rightly) worried about mines – it will take months if not years to clear these so cultivation can occur. There are efforts to move production to the West but it takes time as the right conditions and infrastructure like greenhouses must be in place. Central Ukraine is the biggest production region for grain exported around the world. The EU4SmallFarms team is helping to get seeds to the area, but getting grain out remains a significant issue. Russia stands accused of using "food as a weapon" with around 20 million tonnes of grains sitting in Ukraine's silos or secreted out of the country for illicit sale.
One of several big importers for Ukrainian wheat, Egypt gets about 90% of its grain from the country (3.6 million tonnes). This was shipped across the Black Sea through the Odessa port until the war. Now the Poles are setting up a reception zone so it can be transferred from there and some has been delivered to Romania, but the logistics are difficult and quantities are much reduced. This is a huge problem for Ukraine as it was their biggest earner for currency, but it's a bigger problem for the world as supplies start to dwindle.
The UN recently said that the war in Ukraine together with climate change and the ongoing COVID pandemic have led to a "perfect storm", driving global hunger levels to a new high.
"The longer the Russia-Ukraine conflict lasts, the more insecurity about food supplies it will bring not only to the Ukraine and the region, but also to the whole world," John explains. "The prices of wheat and corn have already spiked before the war, but due to the conflict we may expect a further increase in prices, which will have strong implications on the poorest African economies."
Nevertheless, as Taras points out, the farmers in the West are optimistic. "Regardless of the circumstances, they keep farming. It is complicated, but they are doing it. Of course they are offered a lot of different types of support, and while it cannot cover 100% of the farmers in need, it has a big impact. It makes a difference."
Cheese production facility in Carpathian Mountain region
EU Delegation to Ukraine Information Note
The EU supports Ukraine in the face of the unprovoked and unjustified full-scale Russian invasion. To date, EUR 1.5 billion has been allocated to support Ukraine's defence through the European Peace Facility. Support is available through repurposing of ongoing projects worth a total of about EUR 140. Over EUR 130 million has recently been disbursed as budget support. This immediate response will be continued through the mobilisation of an additional EUR 330 million.
Over 30 000 tonnes of in-kind assistance has been provided by all EU Member States and other partners through the Union Civil Protection Mechanism. EUR 9.1 billion was raised at the 'Stand Up for Ukraine' global pledging event for humanitarian aid, support to refugees, internally displaced persons and recovery. Another EUR 6.1 billion was raised at the International Donor Conference on 5 May in Warsaw.
The EU also supports Ukraine with emergency Macrofinancial Assistance, amounting to EUR 1.2 billion.