Queen Margrethe II of Denmark visited NIRAS in Allerød
It was a waving avenue of red and white flags, excited children, and joyful employees who welcomed Her Majesty the Queen at NIRAS's headquarters in Allerød on 12 September.
September 14, 2023
As part of Her Majesty's visit to Allerød Municipality, NIRAS had the honour of hosting the municipality's official lunch and presenting three brief talks on selected state-of-the-art projects.
Allerød's Mayor, Karsten Längerich, hosted the Queen's visit:
"Allerød encompasses an exciting past, present, and future with a strong focus on innovation. This is where we educate and house both today's and tomorrow's experts in sustainability, for example. That's why we are pleased that, together with the Queen, we could visit NIRAS, one of the municipality's largest companies and one of the leading experts in sustainability consulting and green transition," he said, continuing:
"For a municipality like Allerød, having such a large and knowledge-intensive workplace as NIRAS means a lot. We are proud to show the Queen some of the very exciting projects that are emerging and being carried forward in the municipality through NIRAS."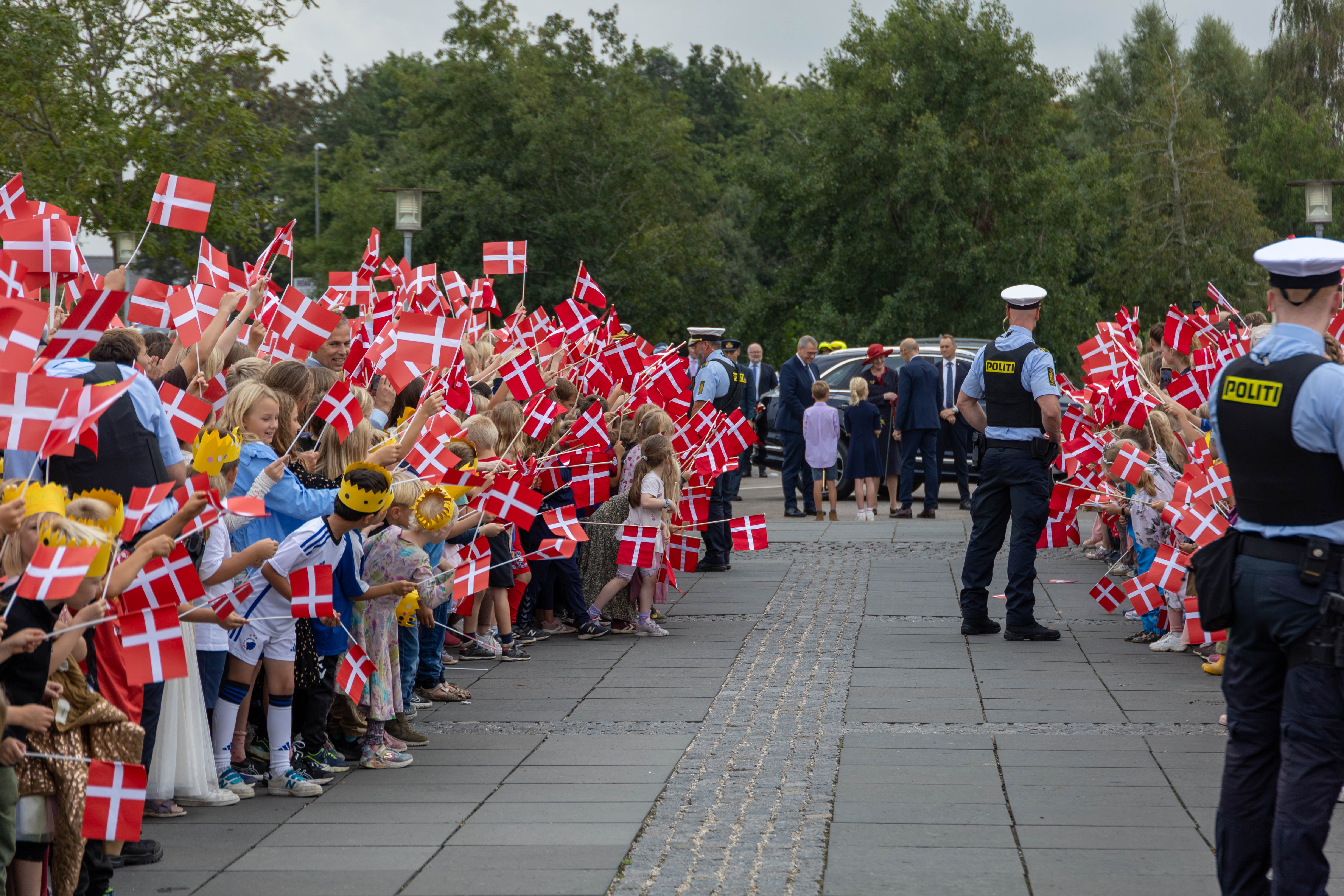 A red and white welcome
Around 1000 children from nearby institutions and schools were invited to welcome Her Majesty. Adorned with crowns, tiaras, and flags, they created the finest red and white avenue, certainly worthy of a queen. The children were in place well before the Queen's arrival, so they spent the waiting time singing together and giving high-fives to the Danish police, who, in the best style, ensured that everything was safe throughout the visit.
Upon arriving at NIRAS, Her Majesty the Queen was welcomed by NIRAS's CEO Carsten Toft Boesen. Hugo and Ida, two children of NIRAS employees, presented flowers to the Queen before the entourage proceeded to the entrance, beautifully flanked by the flag-waving onlookers.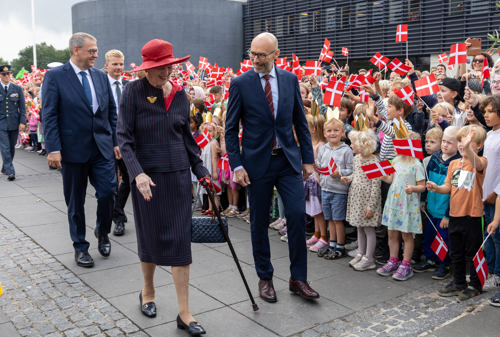 The Queen viewed presentations on projects focusing on green transition and sustainability
In NIRASs' Green Tech Hub, the Queen received an introduction to three of NIRAS's state-of-the-art projects that contribute to society and the green transition: 'Water savings in the brewery sector with Carlsberg as a role model' by Senior Vice President Thomas B. Olsen, 'Mary Elizabeth's Hospital' by Executive Vice President Mads Søndergaard, and 'Business Ph.D. guides the building sector towards absolute sustainability' by civil engineer, PhD Mia Heide.
The Queen listened with interest to the presentations before moving on to the official lunch elsewhere at NIRAS.