Mads Holten Rasmussen achieves an impressive third place in the European competition for young engineering talents
Mads Holten Rasmussen claimed an impressive 3rd place on Wednesday evening at the annual European competition for talented young engineers, the 'EFCA Future Leaders of the year', which took place this year at a ceremony in Rome. At the event, Camilla Tang received the jury's 'Honorary mention'.
June 2, 2023
The competition was fierce, and the suspense was high as young engineers from all over Europe once again competed for the coveted prize. While Denmark didn't secure a victory this year, it did make it onto the podium with Mads Holten Rasmussen representing the country. Mads holds a Ph.D. in linked data and works as a development manager at NIRAS in Allerød. 
In addition to Mads, Camilla Tang was also nominated. Camilla is a specialist in advanced water treatment and water chemistry at NIRAS. Camilla can also be proud of making it this far in the competition and, along with one of the other Danish contestants, received the jury's 'Honorary mention' in this year's selection. This recognition is given for exceptional engineering expertise among young professionals.
Mads was nominated and achieved this outstanding placement for his work on the Building Automatic Rule Check - BART. It was a collaboration between the Danish Building Agency, the University of Copenhagen, the Technical University of Denmark (DTU), and several municipalities. The project aimed to improve the quality of construction projects through automated rule checks that can identify deviations from the requirements set for construction. This not only saves time but is also cost-effective by detecting more errors and deficiencies earlier in the process. 
Specifically, Mads was responsible for developing a method to check indirect requirements dictated by external circumstances and making them understandable for computers. In particular, this enabled the deduction of fire compartment walls based on the adjacent room's function, allowing for the verification of the placement of fire and smoke dampers. Currently, this task requires cross-referencing multiple different datasets, making it a highly manual and resource-intensive process. 
The required skills 

 
EVP Mads Søndergaard is naturally proud of his young employee. He says, "I am thrilled about Mads' impressive 3rd place, both on his own behalf and on behalf of NIRAS. It acknowledges Mads as a skilled advisor in linked data and recognises NIRAS as a workplace that develops young, international talents. There is no doubt that the future calls for consulting engineers like Mads, who have potential in the digital transformation of the construction industry. Mads possesses extensive technological understanding, foresight, and an in-depth knowledge of the engineering field. Coupled with his strong communication and presentation skills, these qualities are essential in the consulting industry." 
He continues, "Mads is an inspiration for other young engineers interested in data and can attract other specialists to the consulting industry rather than opting for a career in large software companies. Consulting engineers need the technological expertise that Mads possesses to propel the engineering industry into the future, where the line between engineering consulting and technology development becomes increasingly blurred." 
EVP Jens Brandt Bering is also very proud of Camilla:  "I'm not surprised, at all, that Camilla got the jury's honorary mention. Micro pollutants are unfortunately becoming a big challenge in our surrounding aquatic water environments and at the same time, we need more and more water. Now also to green fuel production though power to X processes, so advanced water treatment is essential in many aspects. Therefore Camilla's work as both a researcher and a practitioner is of great importance. I'm proud to be a colleague, but not surprised. Camilla is a real role model!"
Two out of the five Danish nominees were from NIRAS

 
In total, five young Danish consultants were nominated for the 'EFCA Future Leaders of the year' award. Apart from Mads and Camilla, the nominees were: 
Jyothsna Amrith, project manager in Track and Infrastructure at Atkins

 

Kasper Bach Johannsen, specialist and project manager at Artelia

 

Michelle Kühl, project manager at COWI

 
CEO of the Danish Association of Consulting Engineers (FRI), Henrik Garver, states that it was a very strong field this year: 
"I have no doubt that all the finalists have tremendous potential. And I know that the five Danes we have nominated do as well. They have the potential not only to make a difference for their companies and the industry but also to contribute to the green transition and ultimately the world we live in. They are top talents, not only in Denmark but also in a European context," concludes Henrik Garver.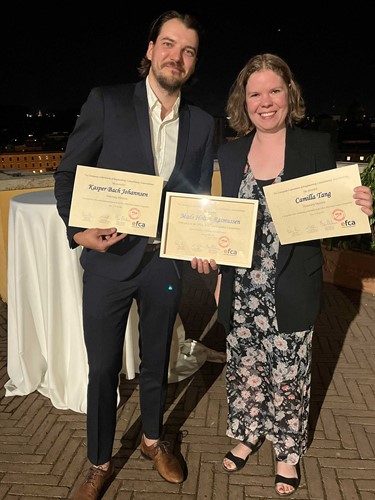 Mads Holten Rasmussen was unable to attend the award ceremony, but Camilla Tang, NIRAS and Kasper Bach Johannsen, Artelia did, and they were awarded an honorary mention at the ceremony. 
Mads Holten Rasmussen
Business Development Director
Allerød, Denmark
Camilla Tang
Specialist
Allerød, Denmark