Top Food and Drink Industry Trends for 2022
2022 is approaching rapidly - and we take a look into the crystal ball to see what the new year could have in store for the Food & Beverage industry. Edmund Keenan, head of process at Integrated Food Projects Ltd - part of the NIRAS Group - gives his predictions for the top food and drink trends for next year.
December 9, 2021
Over the past year, COVID-19 has continued to impact on our lives in many ways, including our shopping and eating habits.
The combination of Brexit and the pandemic have seen lasting changes to supply chains. Innovation in the food and drink sector continues at a great pace, finding solutions to environmental challenges and meeting changing consumer demands.
High end frozen ready meals
Having already felt the impact of various supply chain issues, consumers are seeing the benefits of having frozen foods in stock at home.
Although many consumers perceive frozen foods to be lower quality there is a huge gap in the market for high-end frozen foods which I expect to be filled over the coming year.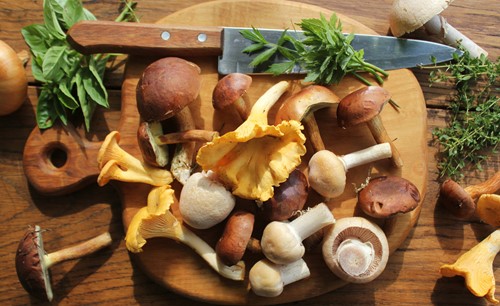 Mushroom drinks
From relaxing teas to mushroom coffees and energy drinks, we're only just starting to understand some of the benefits that mushrooms can provide.
I believe that it will be the drinks sector that sees the biggest increase in mushroom-based products.
Vegan Butchers
There are still only a handful of vegan butchers dotted around the UK, but the roaring success of these are examples that the model works will no doubt inspire others to follow suit.
In the coming year, I expect to see the major multiples adding vegan butcheries to their in-store offerings at some point during the year.
CBD foods 
CBD is short for Cannabidiol which is a cannabinoid that can be extracted from cannabiss plant and added to food products. CBD has no psychoactive properties.
While we're seeing the odd CBD drink appear on the shelves, I expect to see an increase in the range of snacks aimed at improving focus and attention, and sports performance.
High-end delivery
Think Michelin star takeaway deliveries, many high-end restaurants pivoted to become takeaway only during previous lockdowns.
The last couple of years have showne that there is proven market demand for this service to continue.
Meal kits
This has been a growing trend over the past few years, but I expect the category to mature this year as more people want to make something special from scratch.
Food subscriptions
With a move towards increased online shopping and delivery services that are better equipped to handle chilled and frozen products, a growing number of manufacturers are dealing directly with their customers through mail order subscription services.
This type of direct delivery service means cutting out the supermarkets altogether whilst also ensuring repeat purchases.
Closed-loop packaging re-use
Companies like TerraCycle with their Loop system will become commonplace as the climate debate intensifies, expect to see both supermarkets and brands attempting to operate their own systems too.
Core ranges - fewer options within ranges
A nice way of saying less choice. Another trend initially necessitated by general supply chain issues.
Higher prices
I'm afraid this is inevitable and actually long overdue. 
The price of foods will be increasing over the year due to the compounded increases within the supply chain.