New NIRAS innovation hub supports green tech start-ups
The green transition is becoming one of the leading global megatrends across all industries, and therefore NIRAS has established a new Green Tech Hub. The Hub give green start-ups get access to sparring with NIRAS's experts, and it has especially gained interest from food and beverage start-ups. Here, Sophie Bech, the head of the new start-up platform, gives an insight into this unique set-up.
March 23, 2022
Most companies are seeking a way to respond and prepare themselves for a rapidly changing world where green transition has become an all-encompassing megatrend. Consequently, NIRAS recently took an unusual initiative when it decided to transform a large storage and production facility located as part of the company's headquarters north of Copenhagen into a vibrant Green Tech Hub that will welcome innovative start-ups.
In this interview, the director of NIRAS Green Tech Hub, Sophie Bech, explains the reason behind this initiative and also tells about the possible opportunities the Hub holds for the food and beverage industry.
What is the background for NIRAS's decision to start the Green Tech Hub?
Sophie Bech - director of NIRAS Green Tech Hub:
NIRAS has for many years been working with sustainability and green transition, but we wanted to use our capacity in order to elevate and support the growing community of start-ups focusing on the green transition.
NIRAS's was in a process of developing parts of its headquarters, and this presented us with an opportunity to seek a different way of contributing to the green development – by utilizing our facilities differently as well as in contributing with knowhow to small start-ups.
The intention is also to create a strong synergy between the entrepreneurs and the engineers of NIRAS. This will increase the innovation capacity of the well-established company in the long run while also creating new companies that can prosper.
Could you explain what the NIRAS Green Tech Hub is? What is the physical location like?
NIRAS's head office consists of some connected buildings with large office spaces where some 800 specialists work on a series of different engineering projects covering everything from breweries to life science, offshore wind farms, railways, ports and hospitals.
However, the headquarter buildings also contain a large storage and production space that was previously owned by another company. The NIRAS Foundation bought these facilities and in the course of a few months this building was transformed into The NIRAS Green Tech Hub.
We have 5,000 square meters of combined open office space, production area and a warehouse facility, which gives a flexible set-up to start-up companies that need both a creative work environment and a production facility for the initial pilot/small scale production.
The start-ups have their stands and offices, but we also have a lot of common facilities such as meeting rooms, a stage for presentations and events, a studio for production of videos and podcasts, storage space, and an area dedicated to production.
The start-ups also have access to NIRAS's cafeteria. Combined, this provides all the advantages of a large company setting. In addition, as part of the concept, the start-ups have access to a number of NIRAS's experts within their field of interest to be used as sparring partners.
Which trends are NIRAS responding to with the Hub?
A large number of start-ups are moving on from the initial start-up phase. Normally start-ups go through a phase where they are single owner initiatives or where they have gone through an initial start-up in university based incubators, such as Skylab at Technological University of Denmark. But once they start growing and maturing, they need a new platform for development as well as support in growing the business in order to fulfil their potential.
There are numerous investment opportunities, but investors are also looking for a robust framework where the company can develop and be challenged on a daily basis. Large companies are actively looking for the successful start-ups which have proven that they can move out of the initial cradle and develop a sustainable business. NIRAS's intention with the Green Tech Hub is to facilitate this process.
We work with start-ups that are related to NIRAS's areas of expertise. The intention is that the start-ups can draw on the expert knowledge of the 800 engineers that work at NIRAS' head office in Allerød, while also corresponding closely to the green technology agenda of the Hub. We have also received calls from engineers who have previously retired from NIRAS, but who are interested in developing new ideas at the Hub.
So in short the intention is to facilitate a process of combining new sustainable ideas with experience and investments to create tomorrow's green solutions.
What type of companies have shown interest in the Hub? Could you mention a few cases?
We have a wide variety of companies which include a massive amount of activities within green transition and focus on better utilization of raw materials and innovative processes.
The current residents at the Hub are start-ups engaged in e.g. vertical gardening and efficient water usage, intelligent automation solutions in construction or sustainable coffee that will contribute to regenerating and preserving forests globally. So there is an enormous diversity, but the common denominators are sustainability and green technologies.
How is the NIRAS Green Tech Hub relevant to the brewing and beverage industry and SBH readers?
We see a number of companies involved in better utilization of raw materials and fermentation, including better systems for monitoring and using AI to control fermentation processes, which are relevant for brewers and drinks producers.
Furthermore, innovation in packaging is a key focus area, and some of the companies we are talking to are actively involved in making biodegradable plastic by fermentation of by-products, so it all fits together. So maybe we can get to a point where the packaging is actually based on waste from the beer production itself.
We are also in talks with a start-up craft brewer that have a very innovative approach to the use of raw materials, which implies a much more sustainable way of making beer.
What is the economy like for the involved participants? Which models do we see?
It is difficult to say anything general and satisfying about what the economy will look like for the start-ups, because they are very different and they are addressing very different business areas and market segments. However, they do get a very good deal at NIRAS with prices starting at 1,200 DKK per seat for start-ups that still do not have a revenue. For start-ups with a revenue the price is 2,500 DKK per seat.
How does NIRAS support the start-up in The Green Tech Hub?
The start-up pay a monthly rent for their office space and this also includes access to using the shared facilities such as meeting rooms and stage for public events and presentations. In addition, the start-ups have access to the NIRAS cafeterias and training facilities. But also worth mentioning is that each start-up, if they are interested, gets a number of consultancy hours included in the rent, which we believe will create a fantastic space for developing new ideas and moving the companies forward.
How do the first users of the Hub see the opportunities for business development?
We have received very good feedback. One of the start-ups called BuildUp has a core product which is a combination of 3D scans and a digital platform called  'SiteMotion' which is a shared tool for construction managers, architects and engineers. And BuildUp recently become a part of some projects where NIRAS could see an advantage in applying SiteMotion.
So basically, this partnership came as a result of BuildUp being a resident in the Hub. The founder and CEO of the startup, Martin Haurballe, recently was quoted in TechSavvy saying: "As entrepreneurs, we benefit from using each other in the Hub, but we also get something from NIRAS, and NIRAS gets something from us – and that's exactly how it should be if sustainable business is the aim."
I believe that summons up the whole idea of the Hub – and shows that we are already succeeding.
What can our readers do if they are interested in learning more about the Hub?
They should always feel free to reach out for a dialogue with me and the relevant NIRAS specialists to have an initial idea generation session on how we imagine the Hub could support their business.  
You can visit NIRAS Green Tech Hub here.
This interview was first publsihed in Scandinavian Brewers' Review.
Biography: Sophie Bech - director of NIRAS Green Tech Hub
Sophie Bech founded her first company at age 21, and has been working with innovation, creativity and start-ups ever since.
She holds a Master of Arts in Media Science and has throughout her academic endeavours focused on leadership and the intersection between science and humans.
Prior to NIRAS she was managing the international project Scale-up Champions in DTU Skylab, working on the green agenda with deep-tech start-ups, corporates and organizations all over Europe.
She is engaged in several boards, and is always hunting for new ideas.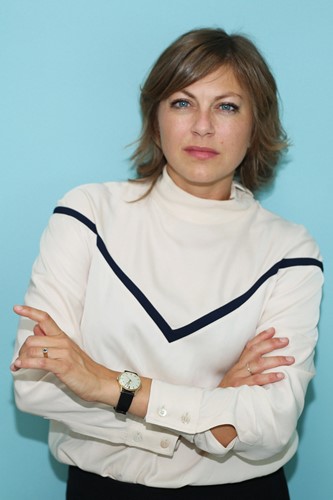 NIRAS Food & Beverage Newsletter
Sign up to learn how our clients optimise production and drive sustainable progress.
Olav Vind Larsen
Vice President
Allerød, Denmark
Sophie Bech
HUB Director
Allerød, Denmark
Kresten Kloch
Senior Vice President
Allerød, Denmark