Empowering women and youth to strengthen the resilience of Ethiopia's WASH sector
The SCRS-WaSH programme, funded by the UK FCDO, is making great strides towards addressing the sustainability of water supply and sanitation investments in Ethiopia, especially in hard-to-reach areas. By supporting women and youth-led enterprises to provide maintenance and spare parts supply services to water supply facilities, the project is not only improving the long-term sustainability of the sector but also addressing the gaps in women's participation in the area of water, sanitation and hygiene.
March 8, 2023
The UN Sustainable Development Goals (SDGs) emphasise the centrality of gender equality and women's empowerment in achieving the 17 goals by 2030. Perhaps most fundamental for human health is securing access to clean water and sanitation (SDG 6). Today, 1.2 billion people lack access to these basic needs, but women and children - and girls in particular - face the burden of its impacts, given their primary responsibility for water collection. It is estimated that women and children spend 200 million hours each day gathering water, resulting in lost time for education, productive activities and leisure. Due to their reproductive and traditional domestic roles, women and girls also face the brunt of water scarcity and water-borne diseases; major causes of child mortality and malnutrition in many Global South countries. 
In Ethiopia, this is the situation facing a quarter of the population who lack access to safe drinking water, most of whom live in drought-affected hard-to-reach areas.
To make matters worse, a variable climate increases vulnerability to frequent drought and floods. The current drought that began in late 2020 for example, has affected more than 13 million people resulting in severe water shortages and disease outbreaks. Climate change is expected to make matters worse, making improvements to strengthen the resilience of Ethiopia's WASH sector essential.  
On this International Women's Day, we take a moment to reflect on UK support  in Ethiopia to support women and youth in strengthening the sustainability of Ethiopia's water supply, and build resilient and inclusive communities through NIRAS managed Technical Assistance.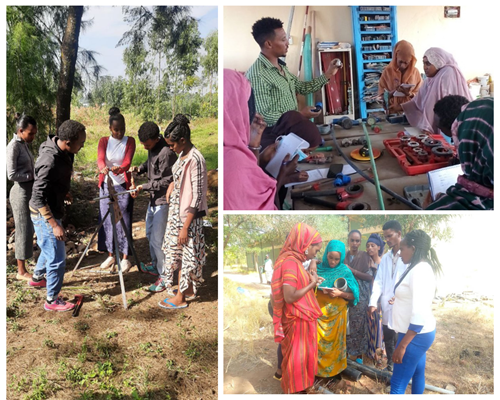 Access to water supply and sanitation has improved in Ethiopia over the past two decades, but the long-term sustainability of investments in WASH struggles with lack of spare parts supply, operation, and maintenance services, especially in remote areas. In fact, around 92% of Ethiopia's WASH financing between 2016-2021 was spent on water supply infrastructure construction compared to 8% for recurrent costs for post-construction maintenance (WASH Finance Landscape Assessment, 2022). Investments in the sector have largely overlooked the central role of maintenance in sustaining water supply with many schemes consequently rendered ineffective. The National WASH Inventory II (2021) report notes one in five water supply facilities are non-functional, reaching nearly 50% in some regions.  
With 120 million people, Ethiopia has the second-highest population in Africa. Women comprise nearly half of that number, but due to cultural norms, their needs and efforts in WASH are frequently disregarded. Historically, Ethiopian women have been excluded from leadership activities and rarely involved in major decisions affecting them and their unique needs relating to water and sanitation mostly overlooked in practice. Accordingly, 52% of adolescent girls in Ethiopia have never received information about menstrual hygiene, and only 28% of women in Ethiopia report having everything they need to manage their menstruation. Women's menstrual health is stigmatised and girls regularly miss school during their menstrual cycle.    
SCRS WASH TAP's approach  
Funded by the UK's Foreign Commonwealth and Development Office (FCDO), the Strengthening Climate Resilient Systems for Water Sanitation Hygiene (SCRS-WaSH) programme Technical Assistance Project (TAP) works to address 'period poverty' to improve girls' school attendance and educational performance. Accordingly, TAP is piloting innovative private sector approaches to improve access to and affordability of menstrual hygiene products, while supporting behavioural change activities to improve healthy menstrual hygiene management (MHM) practices in 150 schools.
In addition, to support the sustainability of service delivery, TAP is capacitating and supporting women and youth-led micro and small enterprises (MSEs) to provide maintenance and spare parts supply services to water supply facilities in drought-prone areas.
members of 10 women- & youth-led SMEs trained in spare parts provision, O&M, and O&M, and the administration of water supply schemes
girls in 150 rural schools will be provided with reusable menstrual hygiene products by the project's close
What we've learned so far  
To date, SCRS-WaSH-TAP has established ten women and youth-led MSEs to provide spare parts and maintenance services, and is in the process of rolling out the distribution of menstrual hygiene products in eight schools. Several lessons are worth highlighting in the context of International Women's Day: 
Based on the project's review to understand barriers to the establishment of these MSEs and lessons learned from previous initiatives, several challenges emerged around equity and sustainability: no clear strategy was in place to address contextual barriers to women's employment; and operational challenges around revenue generation and business diversification and gaps in coordination and buy-in from government agencies accountable for MSEs in the sector led many SMEs to fail. In response, SCRS-WaSH-TAP designed activities to incorporate lessons learned by developing a clear women-led implementation strategy and roadmap; and devised membership criteria and trainings to respond to barriers to women's employment and skills development in the sector.
To ensure buy-in for long term sustainability of these MSEs, the project developed memoranda of understandings (MOUs) with stakeholders from several regional and district government institutions. SCRS-WaSH-TAP has designed MSE selection criteria and capacity building work in consultation with these stakeholders, while considering the technical qualifications, barriers, and employment preferences of women in target areas. Moreover, establishing buy-in among relevant stakeholders has been essential to ensuring that established MSEs are providing services and spare parts in direct response to the needs of regional and district technicians. These efforts will ensure that the MSEs will have a high probability of generating revenue within a short time period and become financially sustainable in the long-term.
SCRS-WaSH-TAP undertook an assessment and review to understand the barriers and challenges that adolescent girls face related to period poverty and stigma. Based on this assessment and review, the project team has begun the development and distribution of informational booklets and awareness raising materials to educate girls on puberty, menstruation, menstrual hygiene product options, and pain management. SCRS-WaSH-TAP is also training school directors and school gender focal point teachers on these topics so that they can educate students and cascade awareness raising throughout the wider community.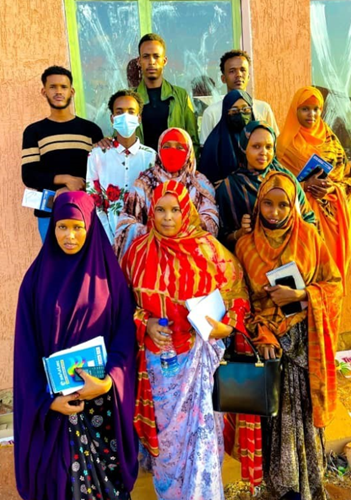 Where TAP's got to — and what comes next 
Some encouraging early results are emerging for increasing equity and the involvement of women and youth in Ethiopia's WASH sector: 
So far, ten women and youth-led SMEs in six regions have been established and 116 members trained in spare parts provision, O&M, and the administration of water supply schemes. Of this total, the majority (60%) are female, seven (6%) are persons with disabilities (PWDs), and all of those established are women-led. Women-led SMEs in the Somali region are now equipped to provide O&M services to local district water supply schemes and nearby water utilities. By the end of the project, SCRS-WaSH-TAP will establish, train, and capacitate a total of 30 MSEs and create an estimated 360 jobs for women and youth.  
Efforts to address period poverty and reduce young girls' school absence are just beginning roll out. By the project's end in August 2024, SCRS-WaSH-TAP will have provided 29,000 girls in 150 schools across rural Ethiopia with reusable menstrual hygiene products to improve girls' school attendance and educational performance.  
Many significant challenges threaten the sustainability of Ethiopia's water and sanitation sector, but real promise exists in creating solutions that build on the capacities of women and youth to fill critical gaps and address inequities in access. Over the coming year, SCRS-WaSH-TAP will build on lessons learned to date and scale up activities to capitalise on women and youths' potential to strengthen the long-term sustainability of water supply infrastructure while building more inclusive and resilient communities. This has to be positive both for women and youth – and the country's wider health outcomes. 
This blog was prepared in collaboration with SCRS-WaSH-TAP Team members Fikralem Alemu, Zewdu Assefa, Wondwossen Tsige, Yitaktu Tibebu, Abireham Misganaw, and Rediet Seleshi. Many thanks to Anthony Way, Tim Grayling, and Martha Solomon for their feedback on earlier drafts.