Harnessing the potential of digital data in support of the SDGs in a smart, efficient, and safe way
Tapping into the insights of global technical experts and development practitioners, the newly released Frontier Data Study provides inspiration and instruction on how to engage with the latest opportunities with digital data and emerging technologies.
October 22, 2020
After almost a year of intense research involving use-case analysis and global consultations on some of the key questions for the future use of data, NIRAS Digital Futures Hub has delivered its findings exploring the frontiers of digital data in development.
The UK Government's Frontier Technologies Hub contracted NIRAS to understand how to apply the most promising new data sources in international development. The aim of the resulting Frontier Data Study is to inspire development practitioners to engage with the newest data s sources and techniques in the Digital Age and instruct them on how to harness these intelligently, efficiently, and safely. The takeaways and associated guides are valuable for anyone wanting to work with data for social good, from data scientists and Evaluators, to project designers and overall strategists across different sectors.
The approach
In an effort to answer questions like what has the experience of applying so-called "big data" revealed in terms of risks or pitfalls, the study examines the pros and cons of existing and emerging data sources and techniques, highlights key data-driven technologies that can be used today – such as artificial intelligence – and provides guidance and tools for non-data specialists in international development on how to use emerging digital data opportunities in the right way. The study outlines the lessons learned from experiments with digital data, how to optimise the potential at both ground and strategic levels and how to best manage risks (such as ethical ones) and optimise opportunities (such as in the 'Leaving-No-One-Behind' agenda).
The key findings
While cutting-edge data sources like big data are definitely exciting, the authors found that in many cases combining them with traditional ones may yield the optimal approach, but risks need careful management and improvements in traditional data sources are also essential.  
There is no one-size-fits all approach and, consequently, front-line staff should be empowered to make decisions on what works best for them using a range of tools and expertise to aid them where needed. Understanding the different data quality dimensions of digital data sources is essential to using them effectively, and data users need to be trained to work critically with data scientists, not least in unpicking the promises and potential of new data sources.
The study is grounded in world-leading best practice from official statistics, taps into the views of a wide-range of global technical experts and development practitioners, and aims to provide inspiration via real world examples. My hope is that this unique and practical tool will help colleagues deal effectively with the complexity we face, not least in dealing with the vast array of technical issues and experts that now seems necessary.

Co-Founder of the Digital Futures Hub, Matthew Shearing.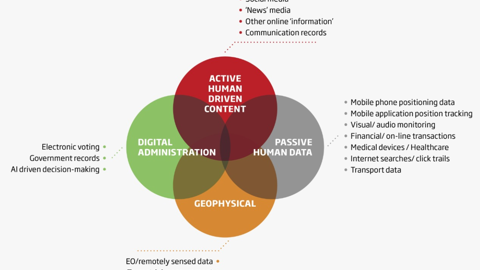 Three new data sources were identified as having the biggest potential for exploitation: passive location data from mobile phones; earth observation (such as satellites and drones); and creating essentially new insights from all data forms via Artificial Intelligence. In conjunction with the main study, a set of three guides does a deep-dive into these data sources, answering questions like where can one learn more about what the data and related technology can be used for? What are the most important issues to consider? What are some case studies of the newest applications of the data and data-driven technology?
About the NIRAS Digital Futures Hub
Digital Futures is powered by in-house NIRAS staff with unique and varied international experience and networks in using data and tech effectively, combining the latest innovative thinking with established best practice in development, policy, and data standards. The Hub brings novel research-industry partnerships and multi-disciplinary expertise to improve the use of data and technology in achieving the SDGs while challenging old assumptions in the use of data and tech in development.
You can learn more about the team and their work here, along with a number of useful tools to help you get the most out of data and tech in international development.