Expertise Director, Green fuels and PtX
Business area:

Energy

Country:

Denmark

Office:

Hele landet

Position length:

Permanent

Deadline:

Wednesday, August 31, 2022
NIRAS is an international consulting company with activities within Building and Infrastructure, Process industry, Utilities, Environment and Nature, Climate, Energy, Planning and Development Consulting. Our 2400 specialists solve the challenges of our customers based on our values - we listen, we learn, we deliver. We believe that cooperation, knowledge sharing and creativity are the way to create the best value for our customers. We have a turnover of approx. DKK 2 billion from offices in more than 30 countries in Europe, Africa, Asia and Australia.
Do you want to join NIRAS's team in green energy transition? Do you already have an entrepreneurial mindset and does the idea of helping create a startup in an existing and well-established company sound appealing?
You now have the opportunity to become part of NIRAS's GREENsition and be a frontrunner in our new strategy to create new market openings, as well as growth and development within our existing consulting disciplines.

This is a unique career opportunity where you will become a key figure in the development of the market for green fuels, helping to build a new business unit in the field of energy together with a senior vice president and other market vice presidents as well as expertise directors in wind, electricity and green fuels.

You will also be part of NIRAS's new, ambitious plan that has been developed with our top management's fullest support. If you are motivated to unleash the huge potential of future energy transition projects in a company aiming for a greener future, then you must read on.


"The green energy transition has a huge potential for NIRAS, and the timing is exactly right in respect to what we see happening in the market. 'That these tasks require strong interdisciplinary work speaks directly to our DNA . "
Jens Brandt Bering, Senior Vice President of Utilities, NIRAS
The job

You will be part of the newly established taskforce within wind, electricity and green fuels. We expect you to take ownership of the new strategy and play an important part in leading and executing it.

The overall goal of the position is to become a dynamic motivator in the development and subsequent implementation of a "go-to-market" strategy for green fuels. As Expertise Director, you will be responsible for leading and coordinating NIRAS's efforts and activities within specific projects, and for customers and sales, as well as being responsible for implementing these efforts and activities in collaborative work across various business units. In addition, you will focus on increasing NIRAS's overall business within PtX / green fuels.

You will also
Identify and secure projects for developers and customers in the field of green fuels
Develop and execute our global strategy for green fuels
Build and maintain customer relationships to deliver a sustainable pipeline of new project opportunities
Build and nurture relationships with partners - including contacts in research and development environments
Share knowledge and skills in order to further develop your colleagues' abilities and skills
Assist with capacity building and strategic recruitment within the area
We're looking for

For this position, you must have around +10 years of experience in a senior business role with expertise in PtX / fuels.

You probably have:
A background as a chemical engineer or equivalent with a good knowledge of chemical syntheses used in the production of fuels and materials via PtX technologies, utilisation of biomasses with syngas and pyrolysis, etc.
The knowledge and experience necessary to be able to offer and evaluate offers based on functions and qualities.
Insight and knowledge of the basic processes for fuel production - including mass and energy balances as well as the limitations of syntheses and catalysts to achieve the desired results.
Overview of the most common syntheses such as methanol synthesis, Fischer-Tropsch syntheses, water shift reactions and more. Syntheses for ammonia and production of SAF for jet aircraft, both HVO and AjT, as well as e-methanol for jets.
Knowledge of electrolysis technologies: Steam reforming, alkaline electrolysis, PEM, SOEC and others. and the corresponding parameters in relation to inhibitors and optimisations. Similar expertise in biological syntheses using microorganisms, enzymes, etc. and their metabolisms and processes would be desirable.
Preferably familiar with the refining of crude oil to the products to be replaced: Diesel, jet fuel, solvents, naphtha etc.

"It will be absolutely crucial that we industrialise the value chain and not least the PtX production process, and I believe that NIRAS can contribute to that development with our many years of experience in the process industry."
Thomas B. Olsen, Senior Vice President of Process Industry, NIRAS


Apply for the position

If you have any questions about the position, please feel free to reach out to Henrik Juhl, Marketing Director +45 4299 5413, juhl@niras.dk, or Monika Hürtig, Recruitment Consultant, +45 2935 9810 monh@niras.dk.

NIRAS welcomes you to a company in huge growth. We offer personal and professional development, good employment conditions with a security scheme, flexible employee benefits and working conditions as well as a salary that matches your qualifications. In addition, we have many, active staff clubs with exciting opportunities to participate in sports, art, beer brewing, wine, etc. as well as an excellent canteen. If this is something for you - then we look forward to welcoming you to the team!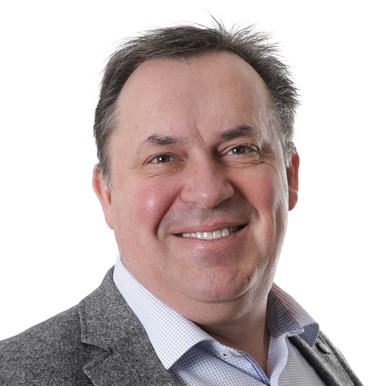 Henrik Juhl
Vice President, Market/Sales