innocent's blender: How we contributed to making the world's most sustainable healthy drinks factory
When innocent wanted to build a new drinks factory it turned to Integrated Food Project – part of the NIRAS Group – for advice. Here we tell about our involvement in creating innocent's new factory 'the blender' – the world's most sustainable healthy drinks production plant.
December 10, 2021
Integrated Food Project – part of the NIRAS Group – played in integral part in the planning and construction of the innocent's new drinks factory in the port of Rotterdam. Here some of the key persons in the project tell about how we contributed to making the world's most sustainable healthy drinks factory.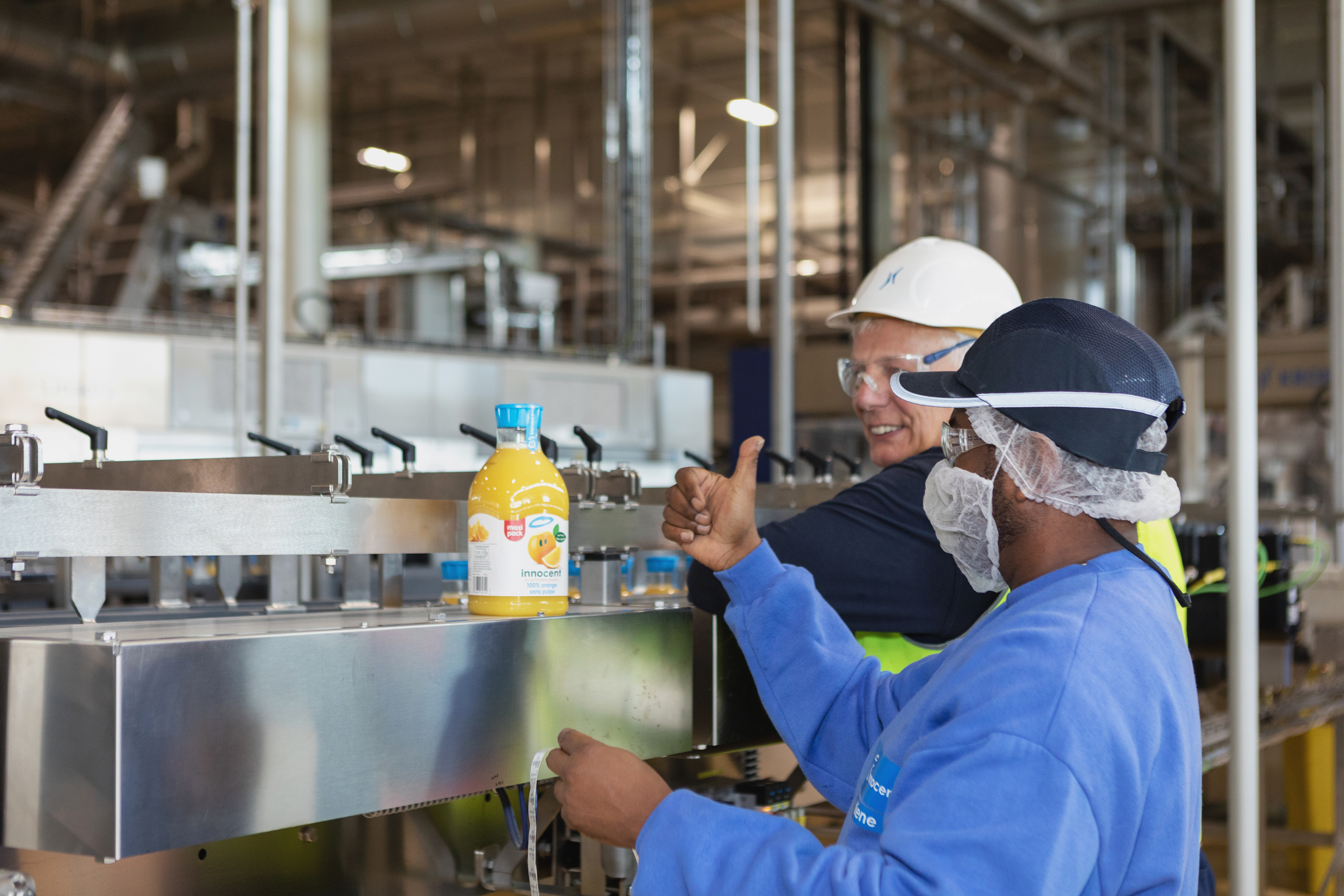 1. The evaluation stage of the project
Nigel Devine, Associate Project Director
Integrated Food Projects - Part of the NIRAS Group:
We first started speaking to innocent about the possibility of the brand moving away from an outsourcing model back in 2017, with a vision of building a new factory to manufacture their core products in its own factory.
innocent had a very clear vision of the type of factory they wanted to build, in line with their values and purpose, as such, it was integral that sustainability was at the heart of every key decision that was made – with the goal of building a net carbon zero facility.  
Impartial feasibility and new operating P&L
Initially, questions were focused on cost and feasibility, but we quickly reframed this to ask whether innocent should become a manufacturer at all – what this would achieve for the business, customers, suppliers, and of course how could the environmental impact of the business be reduced?
As part of the evaluation process, IFP modelled a new operating P&L for innocent – this is often in existence, however, as is the case for many brands which run an outsourced model, it needed creating from the bottom up.
This is an element of the evaluation process that we expect to become more commonplace in the coming years, as sectors such as plant-based food and drink continue to rapidly expand, many successful brands will be exploring the possibility of manufacturing their own products.
Throughout the evaluation process, the IFP team shielded themselves from existing data and information on the financials of the existing outsource model.  This allowed the team to remain impartial and more objective in their assessment of feasibility.
The resulting conclusions not only provided a strong business case for the blender, but also, aided by innocent having a clear sense of their values, the evaluation was also assessed against environmental credentials and innocent's values.
This wasn't an evaluation purely focused on the potential financial benefit to innocent.  From day one it was integral that any new project would be built upon innocent's core values – purpose was at an equal footing to profit in the decision to build the blender.
Ambitious and industry-leading facility
Of course, sustainability has far-reaching benefits to the business, customers, suppliers and society, but in a future where the environment will be front and centre for the food and drink manufacturing sector, it does provide advantages to help future-proof the business.
For example, the business case was delivered without taking into consideration possible new carbon taxes and energy price rises, as such innocent will be sheltered from these while further enhancing their brand and core values through a sustainable factory and supply chain.
In the coming years, I firmly believe that the decision that innocent took will be deemed to be a very smart one. the blender goes beyond efficiency and improved financials for innocent, it's an ambitious and industry-leading facility that acts as a great example of the 'art of the possible'.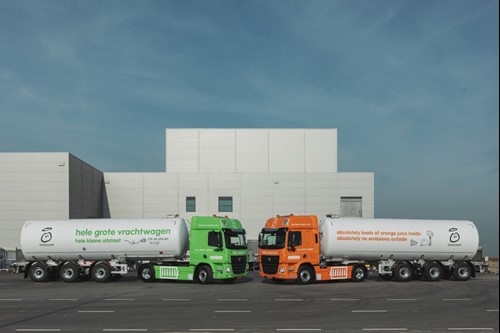 2. Designing and building the blender: Sustainability at the heart of every decision
Hayley Cormick, Senior Sustainability Advisor from KLH Sustainability:
Since day one of Integrated Food Projects' involvement in the blender, the objective has always been clear – design and build a drinks factory that supports a supply chain that can be carbon neutral by 2025.
To achieve this, the blender upholds a robust and future-proofed definition of CO2 neutral that sits in line with the UKGBC's Net Zero Carbon Framework and the Netherlands BREEAM CO2 neutral definition.
The reality of achieving carbon neutrality meant the adoption of a hierarchy of reducing energy consumption, improving energy efficiency, moving away from fossil-fuel derived energy sources and investing in new renewable energy. These topics became the focal point for every decision made in the factory design process.
Ultimately, all energy needed to run the production process – including pasteurisation, blending, bottling, running the testing labs and chilled storage, as well as the energy needed to create a comfortable and productive working environment – would need to be met by renewable energy across an average annual cycle.
Reduction of steam demand by 80%
An important first step in reducing energy demand in the blender was challenging the factory's requirement for steam. the blender's steam demands were able to be reduced by 80% through splitting thermal demands down by purpose, and only heating water to the temperature specific functions require. Reducing the need for steam enabled the blender to do away with fossil fuel burning boilers and introduce an all-electric energy strategy.
the blender recycles what is typically seen as "waste" heat from the cooling and refrigeration process by recompressing it to a useful temperature and using it to meet the heating requirements of the factory.
This industrial heat pump energy solution creates a thermally balanced system, reducing the predicted energy consumption for heating and cooling by 45% – a system that we were delighted to see innocent win the People's Choice Award for at the 2021 European Heat Pump Association awards.
Revolutionary line cleaning technology
With global demand for water increasing at a rapid rate, a keen focus was placed on how usage could be minimised at the blender. Traditionally, high volumes of water are flushed through production lines to clean and sanitise lines and tanks.
the blender challenged this standard process by introducing a new revolutionary line cleaning technology called FluiVac where spinning airflows are generated to create a pressurised water mist that cleans the lines – the introduction of this innovative system saves an estimated 81,000 litres of water every single day.
Further to this, automation and the latest AI technology have been implemented throughout the factory to create efficiencies in the operating of machinery and managing of processes. This allows for the blender to increase both production rates and product quality, while ensuring that primary resources – such as water – are used efficiently.
Reusing and recycling waste
Waste materials from the manufacturing process was another area of focus. Throughout the construction stage, a circular mindset was implemented – by maximising material separation through 12 different waste streams, we were able to recycle or reuse 90% of the waste generated from the construction site.
the blender is not just a project designed to be sustainable today, the entire lifetime of the factory has been considered to ensure that it continues to evolve and is still at the cutting edge of environmentally friendly design for many years and decades to come.
In a future where the circular economy is more prevalent, the blender will be able to support and be a functioning part of this process thanks to the development and introduction of a materials passport. By creating a digital database containing data for the specific building products, innocent will be ready and prepared to feed into the circular economy as it develops during the lifecycle of the blender.
Sustainability and the blender are intrinsically linked
Sustainability and the blender are intrinsically linked. From very early design stages, the innocent-defined sustainability framework has guided the design, construction and operations of the factory to set out the blueprint for what a sustainable factory can be.
By implementing the bespoke framework, the blender is targeting both BREEAM and WELL certification, in addition to positively contributing towards innocent's BCorp certification.
Working with businesses such as innocent, who are purpose-led in everything they do enabled us to factor sustainability innovations into every decision that was made in the design and construction process.
Sustainability brings advantages beyond profit
the bender shows that a focus on sustainability brings advantages beyond just profit. The planet and people also benefit, and they are two areas that businesses and factories of the future should consider and contribute towards equally, alongside profit.
What has been achieved with the blender, and the methods, designs, thinking and technology that contributed towards it, are not learnings that innocent will keep to itself. innocent wants to inspire wider change across the whole of the food and beverage industry.
As such, innocent is committed to creating technical case studies that will be freely available, and which will tell the story of the blender's sustainability journey, including the lessons learned, in an effort to educate and inspire the wider industry to strive for real change and higher sustainability standards in the future.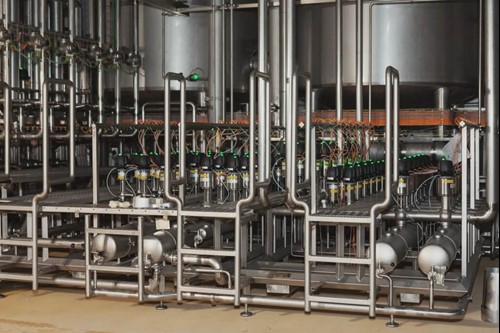 3. Design and technology to make the factory futureproof for decades
Andrew Lyons, Factory Designer
Integrated Food Projects - Part of the NIRAS Group:
Throughout the evaluation, design and build of the blender, Integrated Food Projects and innocent have had a clear focus on sustainability. Careful planning and the integration of the latest technology and thinking has delivered on the goal of being the Earth's most sustainable healthy drinks factory, but it's important to remember that this is a factory that needs to remain sustainable for decades to come.
As the world becomes more aware of what is required by governments, society and private businesses in order to meet the challenges of global warming, it is inevitable that sustainability standards will evolve. What is deemed progressive today, will look very different in ten years' time.
Meeting and exceeding new sustainability standards
A sustainable drinks factory that requires major and regular reconstruction in order to meet and exceed new sustainability standards is by its nature, not sustainable.
We were focused on designing a factory that would be prepared for new technology and be built in a modular fashion so that any upgrades and changes can be made with minimal disruption, cost or wastage.
The central objective for the blender was to be a carbon neutral, 100% electric factory and this core value was at the heart of every decision that was made in the evaluation, design and build processes.
From reducing water usage through FluiVac product purging and line cleaning technology, to revolutionary heat pumps that create a thermically balanced system to reduce energy consumption, the Integrated Food Projects team was able to integrate a huge range of innovative technology to reduce energy consumption – allowing for the energy needs of the factory to be met by onsite, renewable sources.
It's not only advancements in technology that IFP has factored into the blender's design, the future demands from governments and society on the food and drink sector have also been assessed, as they will evolve to put a greater emphasis on sustainability.
Zero CO2 factory shields for future carbon taxes
By reducing the carbon requirements of the factory to zero, the blender will be shielded from any carbon taxes that may be introduced in the future.
Governments and the public are increasingly becoming aware of their impact on the environment, and as action is taken to reduce our dependence on fossil fuels, any new taxes or regulations on the food and drink manufacturing sector will require swift, and potentially expensive action from many businesses, running more traditional factories.
Consumer behaviour is also changing, and people are starting to demand more transparency from the companies that manufacture and sell the products they buy.
Members of the public want more control over their own carbon footprint, and as attitudes amongst shoppers change, it's likely that people will be more inclined to buy products that are manufactured in more sustainable ways. Operating sustainable factories and being able to communicate this clearly and effectively to consumers will not be a 'nice to have' or just marketing activity in the future, it will become a license to operate in the sector.
Factory designed and built for the future
It was also critical to future-proof the blender from an operational perspective. The process lines and blending area needed an element of agility and flexibility within the design, so that if production levels need to be increased or new product lines are introduced, it can cope. The design is modular in nature and the space and infrastructure has been allowed for within the design – to handle growth over the coming decade.
What has been achieved with the blender is truly astonishing, we hope that in this three-part series of blogs you have been able to see a glimpse of the partnership between Integrated Food Projects and innocent over the last few years – covering evaluation, sustainability and of course, futureproofing.
It's a factory that not only delivers some of the highest sustainability standards in the food and drink manufacturing sector, it's a factory that has been designed and built for the future.
NIRAS Food & Beverage Newsletter
Sign up to learn how our clients optimise production and drive sustainable progress.
Thomas B. Olsen
Senior Vice President
Allerød, Denmark
Olav Vind Larsen
Vice President
Allerød, Denmark